International Links
Collingwood College – An International School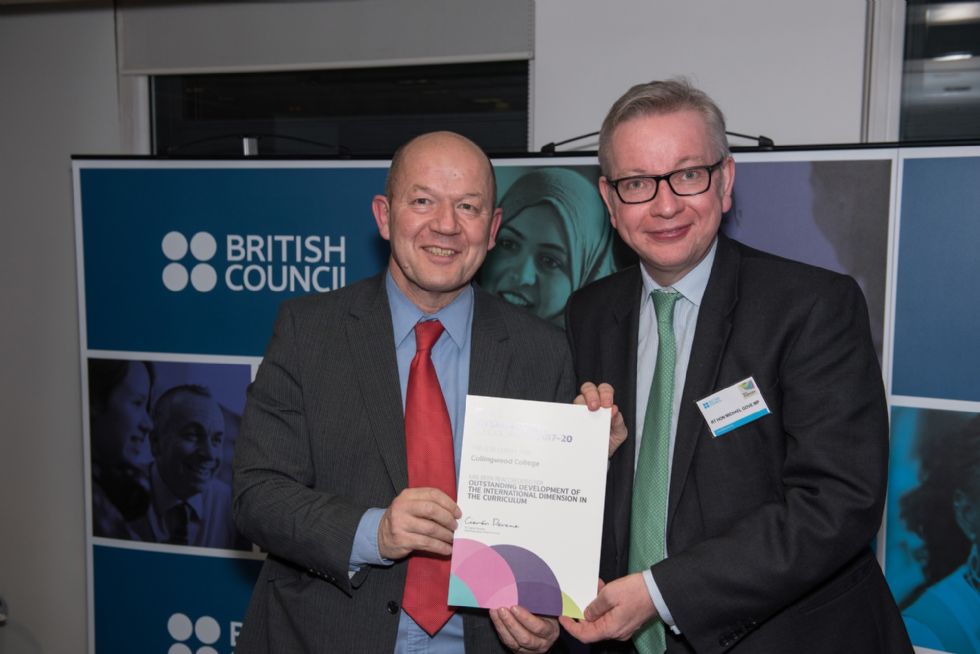 Collingwood has continued to be the proud possessor of the International School Award, recently re-accredited with the Full Award for 2018-2020. This is an Award given by the British Council to recognise those British schools which foster International Ideals amongst their schools' communities.
In the past year the College has continued its mission to broaden the international outlook of students, staff and the entire Collingwood community.
It is worthwhile reminding ourselves of the Award's five Global Themes; these are very noble ideals, which the many activities we do in Collingwood aspire to uphold:
Conflict and Peace
Sustainable Living
Rights and Responsibilities
Fairness and Equality
Identity and Belonging.
For the last ISA submission Collingwood engaged in several major international processes and activities which we know echo these ideals, and give a good overall view of how International the outlook of the College is.
CHINA
This vis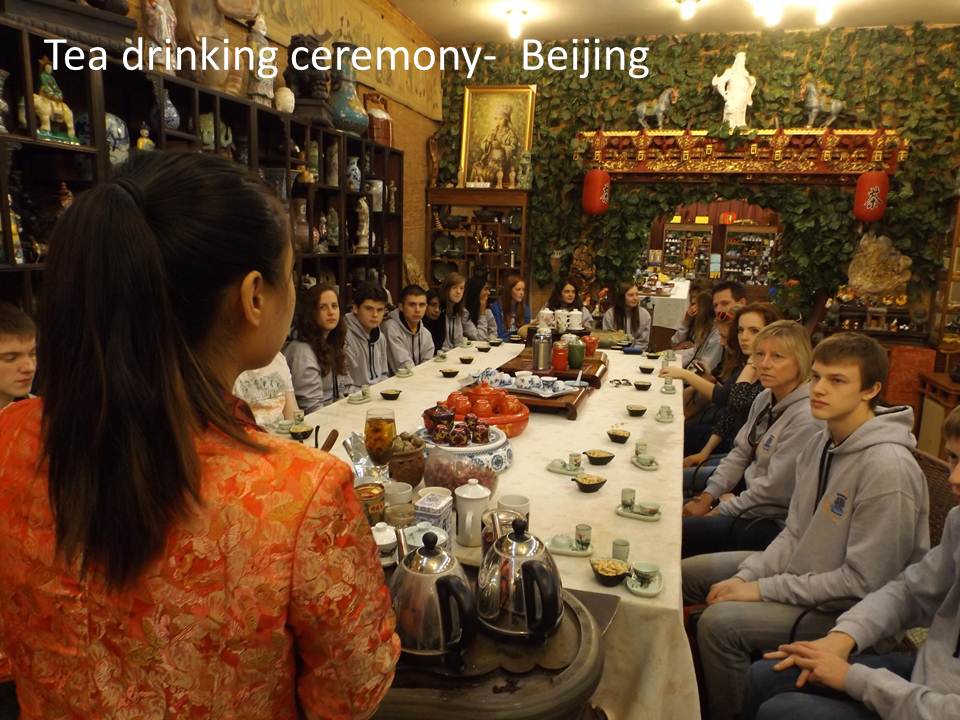 it take place every two years for upper College students. It includes travel to Beijing, the Great Wall and the Terracotta Army, as well as to Shanghai, where our students enjoy 24 hours in the company of school students from Jiangning School. Our students enjoy a full day at the school, where they are firstly paired up with a Chinese student each.
In the October 2016 visit our students enjoyed lessons in tea-making, maths, calligraphy, sport, music and psychology. Our students were then taken to their partner's home to stay the night, eating with them and doing whatever the family did in the evening. Considerable planning is done for the group before this visit, with staff conducting s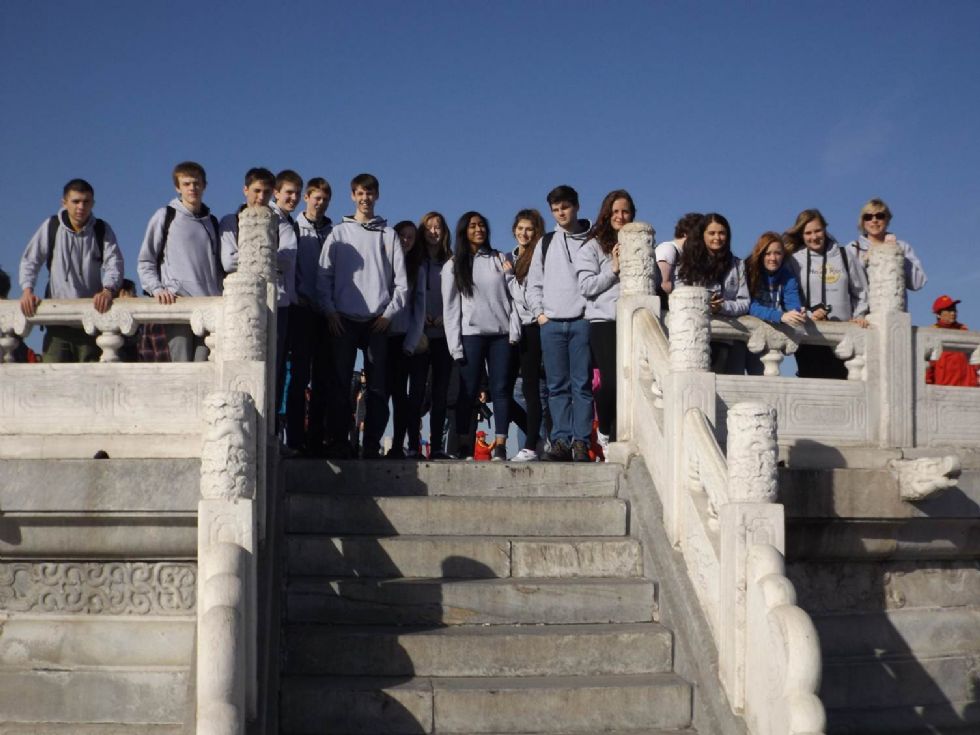 essions on languages, customs, family and school life.
Equally students from Jiangning spend a day at Collingwood during a UK visit, usually in July, where usually, amongst other activities, they make cup cakes in our Food Technology Department - a very English activity! The trip co-ordinator and corresponding Shanghai teachers produce a feedback package to present to both sets of students.
SPAIN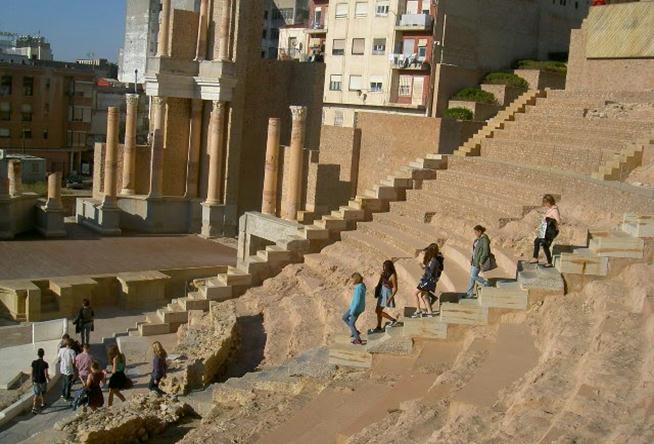 A further excellent College link is with the IES Europa School in Aguilas, SE Spain. The Languages Department at Collingwood has conducted four recent Student Exchange Programmes with this school (situated by the Mediterranean Sea) and the programme has brought a number of benefits to both schools, in line with the ideals of being an 'International School'
Students spend a week or so in the corresponding school in the Spring, living in students' homes, socialising with them, attending classes, talking with teachers and others in the community, thus experiencing real Spanish life. When our students returned and reported how they were "getting used to 11pm evening meals", you realised there was something new going on.
So for the ISA Re-accreditation we asked "What can our Spanish Exchange offer beyond a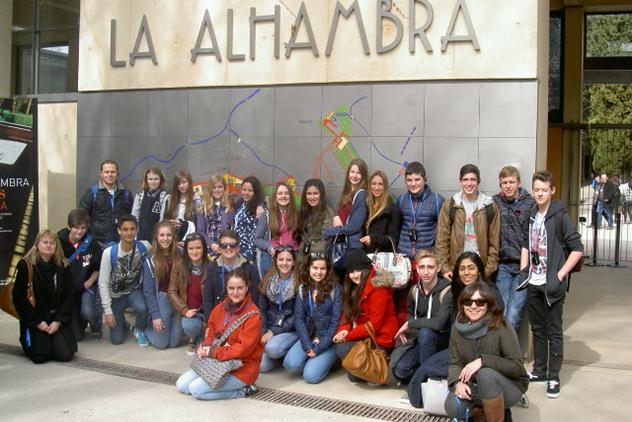 language exchange", our students answered "loads": how different attitudes are in the school classes, how the Spanish conduct themselves in the corridors, the paucity of facilities in the classrooms (yes, we are very fortunate to have interactive whiteboards in every classroom in Collingwood…). What is more important, of course, for Collingwood students as a whole is that, with an Exchange, Collingwood's language-learning students not fortunate enough to travel to Spain, will be able to converse with the Spanish students when they visit Collingwood on the return 'leg'.
Comments from our most recent exchange participants: "A great thing was being able to try out my Spanish In a way I would not have been able to do in England" (Lucy Cuthbert), "the Pizza is nicer in Spain" (Tom Morgan).
Furthermore, we are lucky that the Spanish school offers a further element: several subjects at IES Europa are taught in the English medium. We have thus shared resources in Science and Humanities, with our students and staff remarking on how similar/different topics can be across Europe. One of our Year 10s commented on an 'exchanged' Spanish Science paper: "I wouldn't like to be tested this way because you have to remember so much…". This exchange clearly fulfils many purposes, including the chance to have full class email exchange - an initiative begun in October 2016 when we were not able to take part in a student exchange.
GERMANY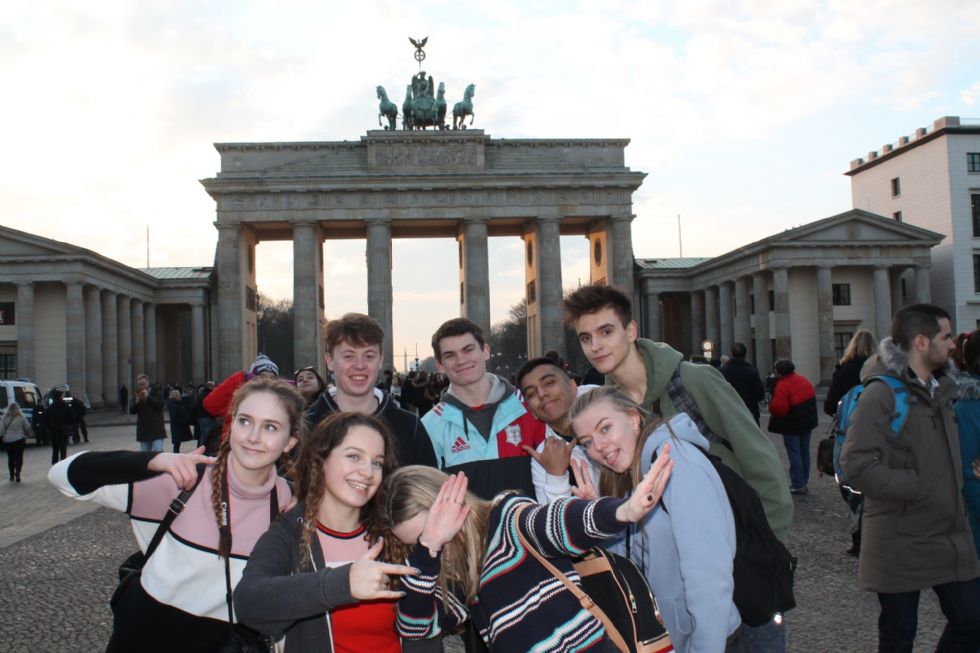 The Key Stage 4 visit to Berlin includes a very informative drop-in to the Kant-Gymnasium, a grammar school in Spandau. Identity and Belonging are themes here – what is it like to be part of the new Berlin…? Conflict and Peace – how you cannot avoid these questions once you have seen a real Concentration Camp, a museum of Nazi atrocities, evidence of shooting escapees over the Berlin Wall (and how the Wall came down) and how the German Democratic republic maintained its power until then….?
"I also enjoyed seeing the concentration camp and how the Germans viewed it.". "I could see what German students are like…"
Collingwood offers with this Berlin visit and link perhaps more questions than answers, but it certainly had a profound effect on the group of visiting Collingwood students. There was clear evidence that it roused discussion amongst their families and friends as well as real cross-curricular discussion for humanities lessons.
THE ECO GARDEN
M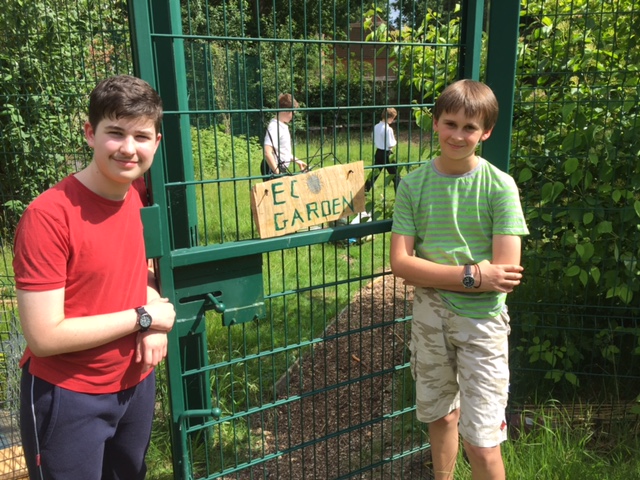 r Butler and colleagues identified an isolated part of the College grounds to establish an Eco Garden. Approximately 4 years before, Eco Garden activities had begun in a different part of the grounds, but Mr Butler and his band of Eco enthusiasts decided to make a bigger impact. The group meet every Tuesday, Rain or Shine. They meet with garden tools, they dig for plants to grow, they establish habitats for insects and other wildlife to prosper.
The aims are primarily to show how garden activity can make a little difference to the World As We Know It. By growing plants and vegetables ourselves we are less reliant on other suppliers. By establishing habitats they are protecting species and encouraging their survival.
ASIAN WEEK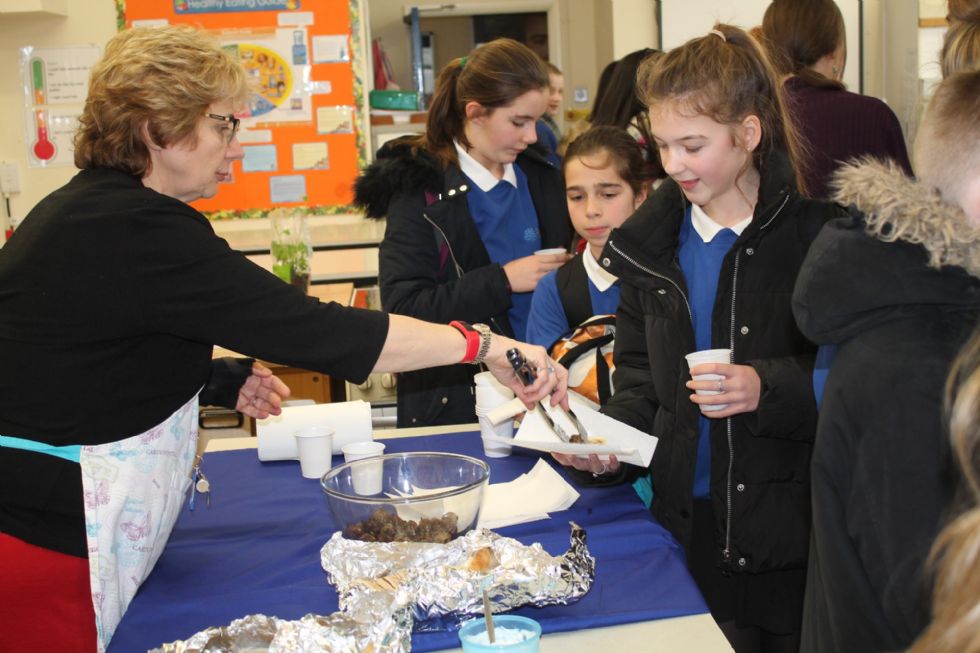 Asian Week is an annual fixture at Collingwood, celebrated in early February. Some of the events that took place in recent instances of this celebration were as follows: A local Gurkha regiment from neighbouring Sandhurst Royal Military Academy came to Year assemblies and brought their weaponry to show the students (including the unique 'Kukri' knife), and gave a brief history and other information about the Nepalese serving in the British Army. Almost all College Departments and Faculties introduced 'Asian' items to their Schemes of Work, such as: the Languages Department allowed time for students in lessons to 'teach' their home languages to other students – Nepalese, Hindi, Arabic, Tagalog, Urdu, Russian, etc., the English Department introduced texts based in Asian countries, Geography talked about Tourism in Nepal, Food Technology brought in a Year 7 parent to teach Indian cookery at lunchtime and History taught a unit of work based on India as the 'Jewel in the Crown'.
The staff involved in the China trip (see other activities) held very well attended Mandarin teaching sessions after school, open to all, not only those on the China trip. In other College assemblies students Neha Sherpunja and Alisha Magar and friends delighted students with a show of their range of Indian and Nepalese dances.
FAR-FLUNG EXPEDITIONS WITH SUSTAINABILITY
Every two years Mr Jarmyn and Miss Adie have linked with the True Adventure group to bring opportunities to certain students with spin-off International Insights to our students as a whole. The True Adventure schemes that Collingwood joins are four-week experiences, which combine a trek, sustainable development in the Community, and some R&R. In 2015 a group of 15 went to Tanzania, and in 2017 a group of 16 male and female students from Years 11, 12 and 13 went to Nicaragua in July/August. The preparations are equally important as the experience itself is amongst a far-flung community. There are 18 months of fundraising to support the Community Work. Whenever there was a cake sale or snack sale at a breaktime or lunchtime in College this would inevitably be organised by the Nicaragua group. There were campcraft and trekking preparatory weekends and evening meetings with the travel company which gave insights into the target country. The students themselves studied the country (in their own time): culture, food, history, language and dress. In the aftermath of the Tanzania trip, participants fed back their experiences in College Assemblies (not only as marketing for the Nicaragua trip(!), but they were passionate to disseminate their experiences regarding that Other World Out There). The Community Work in both the previous and the upcoming trip involves supporting a Secondary School and its building.
WORLD WAR ONE COMMEMORATIONS - AN INTERNATIONAL EVENT
Initial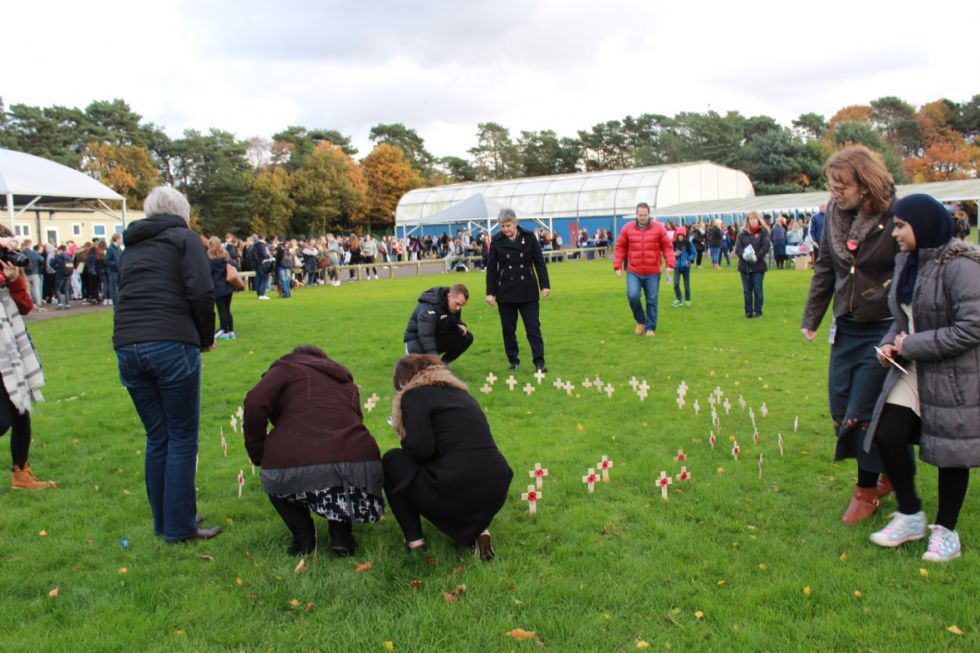 ceremonies took place in College in November 2014. Students designed memorial plates of their own families loved ones which were displayed in the main School Hall. There was an early morning ceremony (7.00am) including members of the whole College community – staff, students, governors, parents. Students and staff participated in a day of activities which was set up to bring home the message of the horror of war. Each Faculty offered a session, e.g. English studied War poetry, Languages carried out activities to explain the German point of view, Technology students took part in trench building. The beginning of the Battle of the Somme was commemorated in July 2016 by students and staff laying crosses on the College recreation area and also by readings and musical interludes. In March 2017 1600 College students and staff took part in an initiative to form a human poppy and an aerial photograph was taken. Furthermore, students, staff and friends of the College collectively took part in 'The Walk', the aim being to walk across the globe through the British Empire countries, with the use of pedometers (extra walking and running completed in breaktimes, lunchtimes and after school), to complete the 74 million steps needed to complete the (British) world tour. Further events took place on Armistice Day in November 2018.
THE INTERNATIONAL COMMITTEE
The unique little committee has met a couple of times in the past year, and equally in the previous two years since the last Award. Its membership varies in names and numbers, but one constant in the membership is that it is exclusive, perhaps controversially, to non-fully British individuals. Perhaps a future innovation would be to include some British representatives! The Committee has met, with snacks of healthy nature, to discuss Cultural Diversity at Collingwood. Students enjoy the discussions and at the last meeting the following nationalities were represented: Spanish, French, Pakistani, Sri Lankan, Indian, Romanian, Nepali, Russian, Chinese, Polish, and Hungarian. Thoughts, proposals, and points of discussion were: Let's all write a sentence of our home language and compare them, Let's do another International Week, apart from Asian Week, Brexit - and how that may affect some of those families represented (a few of those there had only recently arrived in the UK) and recent terrorism which is apparently racially/religiously based.
Mr Bunter - International School Award Co-ordinator