France and Belgium Trip for Travel and Tourism/Business Studies Students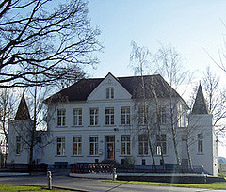 In December, a group of Year 12 and 13 BTEC Travel and Tourism/Business Studies students travelled to France. We were all up nice and early to catch the coach for 7:00am. Our drivers, JJ and John, drove us to Folkestone, where we caught the Eurotunnel to Calais.
When arriving in Calais we were all a bit more awake and were surrounded by some snow. Our first stop was the chocolate factory, hidden away in a little village called Beussent. It is a small shop down some steep steps and has a very strong aroma of chocolate - we couldn't wait to taste some! We went through the back of the shop, where Alain Derick gave us a talk on where their cocoa beans come from and how they make their chocolate. After, we had a taster and a chance to buy some.
We travelled to a shopping centre where most of us tried and failed miserably to order McDonalds. Then we went straight to the hotel - Chateau d'Ebblinghem. There were 3 separate buildings, giving each group of people staying there their own block. Boys were in the rooms downstairs and girls were upstairs. We selected our rooms and came down for dinner, which was beef stew, potato wedges/jacket potato and vegetables, with chocolate éclairs for pudding.
The next day we travelled to Lille Christmas market, which had a massive ferris wheel and shopping centre. We had a few hours to wander round and have a ride on the 150ft ferris wheel.
We then got back on the coach, after having spent the day in the cold and rain, and went to Ypres in Belgium. When we first arrived, we took a tour round the village in 2 horse-drawn carriages. We then walked up to the Menin Gate to view all the names of people who had died in that area during the first world war. After a little bit of history, some of us went ice skating at the rink in the centre of the village.
Monday, 6th December - GOING HOME!! We spent the morning in Boulogne Old Town and then (all very tired) we boarded the EuroTunnel. On the way home we all fell asleep. Overall the trip was fun and we were able to gain lots of research to complete our coursework.
Alice Humphrey, Year 12