X-Country Success at Lightwater District Event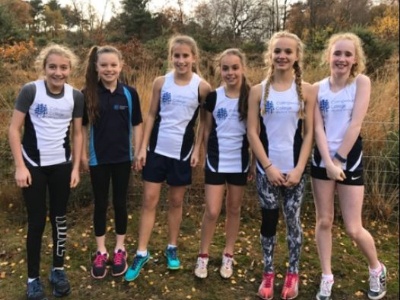 Years 7, 8 and 10 students excel at x-country district event.
On Tuesday 22 November 31 students across Years 7, 8, and 10 descended on Lightwater Country Park to take part in the annual District X-Country event. The conditions were perfect for x-country racing, with rain the whole day before and beautiful sunshine for race day itself.
The Year 7 girls ran first and saw Jessica Gates (7I) perform fantastically well to come in 3rd. In the Year 7 boys event Noah Ayivi-Knott (7K) performed equally as impressive to finish 5th in the boys race. Aidan Millham (7I) also ran well coming in 15th. The Year 8 girls were up next and Jules Rabey (8E) did not disappoint by regaining her title with a fantastic final sprint to cross the line in first place. Credit to the four other Year 8 girls, Emily Dillamore (8E), Maya James (8G) and Nicole Sturcke (8G) who all finished in the top 20.
The Year 8 Boys followed and Max Duckworth (8E) ran a superb race to go one better this year and win very comfortably. The Year 9 girls and boys also ran incredibly well in tough conditions. The last races were the Years 10/11 girls and boys and both Charlotte Stevenson (10E) and Hannah Barratt (10A) ran very well to finish 11th and 13th. Tom Handley (10A) and Bertalan Berenyi (10A) also ran fantastic races.
Overall a very successful day for our runners who performed incredibly well for the College. Now looking forward to the next event in March!
Mr Andrews - PE Department