Year 8 Student Wins National Karate Competition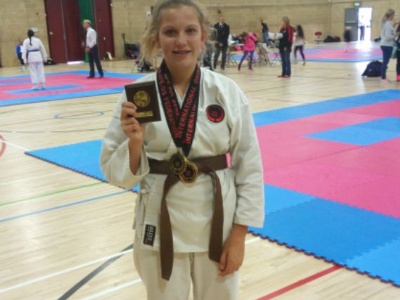 Katie Wright (8K) wins Gold in EGKA National Karate Championships.
On Sunday 9 October the English Goju-Ryu Karate-Do Association (EGKA) held its open National Championships at Stratford-Upon-Avon.
Katie Wright (8K), as part of the Camberley Martial Arts team, entered the U15 Brown Belt class. Katie was the 2015 Purple Belt (National, London and Southern Regional) U15 'Kumite' (Fighting) champion but this was the first time she had completed as a Brown Belt.
Katie started the day well with a Bronze in the Individual Kata (Japanese for 'Form') and improved during the day to win the Gold in the team Kata. The day ended even more successfully when Katie won Gold again to become the U15 EGKA National Brown Belt Kumite Champion!
Many congratulations Katie!!