Year 9 Boys Pull One Out of the Bag!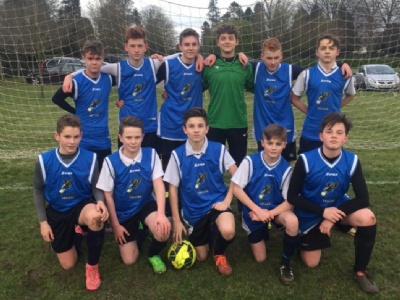 Year 9 Collingwood boys victorious over Amery Hill, with a win of 3-0.
Parents of the Year 9 Boys' football team must have been somewhat alarmed when Mr Hacker unzipped a bag of Basketball Jerseys at Amery Hill School last week, but Mr Beer knew something had to be done to ensure that the Year 9 Boys won their last 2 league games!!
Collingwood won 3-0, with goals from Miles Davis,Thomas Handley and Olly Joint which made for an altogether convincing win and thanks must go to those players who stepped in at short notice.
Team: Josh Mills, Joe Foster, Andrew Gunn, Ben Griffin, Miles Davis, Cameron Tyler, Dan Smith, Tommy Noel, Alfie Mott, Olly Joint and Thomas Handley.
Looking forward to the game against Court Moor School, but given previous years this could prove to be a tight game.
Training: Monday 21 March, Kingston Field, 3.15pm-4.15pm
Mr Beer - Head of PE Department