Years 10 and 11 Boys' Basketball Team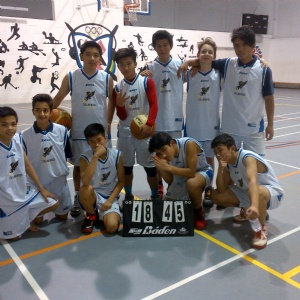 Years 10 and 11 Boys' Basketball Team win convincingly against Bishop David Brown.
On Tuesday 15 December 2015 the Years 10 and 11 Basketball team hosted Bishop David Brown School and secured a very convincing win 45 : 18.
The boys have been attending weekly lunch time and after school clubs and practice has paid off. Strong in defence and relentless in attack, all of the boys in the team below played interchangeable positions, were adaptable and cohesive. Silas Rai, Subik Rai and Nikko New were particularly difficult to play against and Bhupendra Gurung, with commendable leadership qualities, scored an audacious 3 pointer in the remaining seconds of the 4th Quarter. A real pleasure working with such humble boys who enjoy their sport and simply want to get better. The remainder of the squad will be called up for the game against St John the Baptist School this month.
Team: Nikko New, Toby Wade, Prajwal Gurung, Miraj Gurung, Bhupendra Gurung, Silas Rai, Rohit Thapa, Fred Taylor, Pranil Gurung and Subik Rai
Thanks to Brandon Eaton (Year 11 GCSE PE) and Reece Conaway (Year 11 GCSE PE) for running the table and to Goldhawks Basketball for the donation of a kit that continues to make us look professional and smart.
Mr Beer - Head of PE Department