Year 9 Boys Making Steady Progress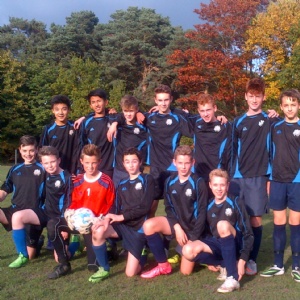 Year 9 boys show resilience in Weydon match.
Despite losing 3-1 to Weydon 'A' the Year 9 Boys' Football team showed resilience, vigour and did well to match the physical tempo that Weydon set. Dan Smith remained calm and calculated in defence, while a loyal Ben Griffin put in a commendable and physical performance at left back and left midfield. Callum Turner's debut performance was appreciated by the boys for his work rate and commitment. Jake Ravenhill displayed composure at right back with Olly Joint commanding his team from the middle of the park. Miles Davis did not stop and certainly had a hard task trying to work his way through a strong midfield. Not the result they wanted, but a pleasure to watch the boys making progress.
Team: Xavier Collins, Dan Smith, Andrew Gunn, Ben Griffin, Sovan Rai, Jake Ravenhill, Cameron Tyler, Miles Davis, Callum Turner, Olly Joint, Luke Mann, Thomas Handley, Swarnadeep Rai
Man of the Match: Ben Griffin
Mr Beer - Head of PE Department