Years 10 and 11 Boys Basketball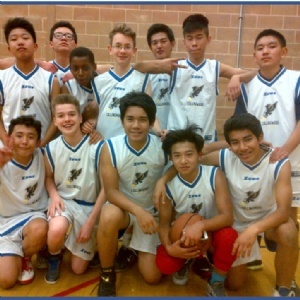 Boys make an impressive start to the season.
Despite losing 59 : 27 to what the boys later learnt was an accomplished U16 Woking County team, the Years 10 and 11 Boys' Basketball team made an impressive start to the season over at Woking High School on Monday 12 October. The boys looked professionally turned out in their kit that was kindly donated by 'Goldhawks' Basketball and the boys are really excited about this year's fixtures, given how strong the squad is - combining some of the best players that Years 10 and 11 have to offer.
Team: Subik Rai, Jenson Brown, Pranil Gurung, Bhupendra Gurung, Rohit Thapa, Subin Gurung, Prajwal Gurung, Andre Mistry, Fred Taylor, Silas Rai, Prajwal Rai and Miraj Gurung
Captain: Bhupendra Gurung Man of the Match: Andre Mistry
Years 10 and 11 Basketball Club: Monday Lunchtimes in Kingston Gym and after Half Term, Monday after College 3.00pm - 4.15pm in the Sports Hall.
Mr Beer - Head of PE Department