Girls' Rugby Teams Compete in County Tournament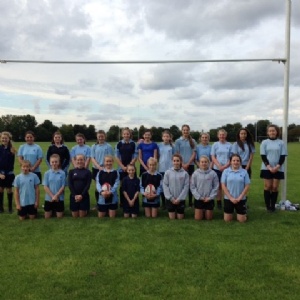 Both Under 13s and Under 15s teams played well at Surrey RFU rugby tournament.
On Wednesday 23 September Collingwood College girls' rugby teams travelled to Warlingham RFC to participate in the Surrey RFU girls rugby tournament.
This is the first of five competitions throughout the year. This academic year we have 27 girls that play rugby for Collingwood and I hope the number increases as it did last year. Rugby is a fantastic sport for girls to play to develop positive sporting ability and raise self confidence. The U15s beat everyone and both U13 girls' teams won the majority of their matches with one loss each. Most of the U13s have never played before and were truly phenomenal considering they had only attended two one-hour training sessions!!!
U13s: Nicole Sturcke, Anna Welch, Emma Stanton, Charlotte Benford, Abigail Stewart, Olivia Jarvis, Carys Botting, Huria Chentouf, Maddy Rabey, Olivia Rundle, Lucy Titheridge, Ronny Smith, Abby Adelman, Phoenix Govey-Gray, Olivia Jenkins
U15s: Abi Bellamy, Annabelle Bartlett, Becky Storer, Georgia Carr, Abbie Watkin, Sophie Wilkinson, Sophie Hoare
Miss Robinson - PE Department