Under 15 Surrey Girls' Rugby Trials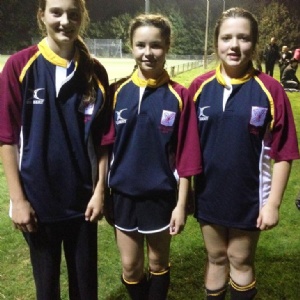 Year 9 girls attend county rugby trials at Cranleigh School.
In a newsletter in the last academic year I mentioned that I had nominated Collingwood students for girls rugby trials. On Tuesday 16 September Sophie Hoare (9H), Annabelle Bartlett (9H) and Becky Storer (9G) attended the Under 15 trials at Cranleigh School. I've been told the three girls did really well, at first looking very overwhelmed by the whole experience but joining in and trying really hard.
There was a mixture of fitness, handling skills, a great deal of touch drills and a final game of contact at the end. I'm sure the contact game was where our students came alive, tackling, running on and getting stuck in. At no point did any of the three girls look out of their depth. However, there were some extremely talented girls that stood out a mile and no doubt already in the county squad last year at Under 13. A great experience for them and I hope they have the opportunity of doing it again next year.
Well done girls.
Miss Robinson - PE Department