Success at the Surrey County Badminton Finals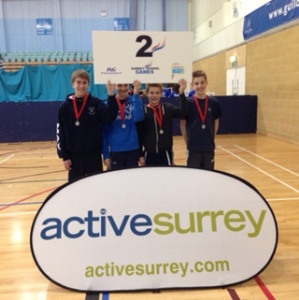 KS3 Boys take second place and KS4 Boys take third place in the Surrey Badminton Finals.
On Thursday 13 February eight students from Collingwood descended on the Guildford Spectrum for the County Finals of the Centre Parks National Badminton Competition.
In the morning the KS3 event took place with Collingwood team, Max Attewell, Jack Rowlett, Charlie Bushell and Matthew Beckett competing. The boys were only in a group of two due to a school not attending and duly dispatched off Howard of Effingham 4-1 in games. In the semi-final Collingwood came up against Woking High and once again the boys played really well to win the match 4-1 overall. In the final they played against Glynn School from Epsom who are renowned for being a very good badminton school. Our boys fought really hard in all the matches but unfortunately came away losing 4-1 in games to finish second place overall in Surrey which is a fantastic achievement!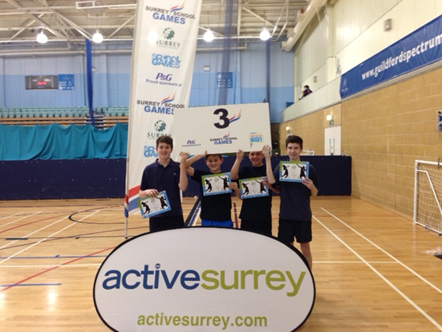 In the afternoon the KS4 tournament was held with Alex Downes, Ben Cullen, William Dunford and Charlie Godwin competing. The boys started off really well with a 5-0 demolition of Jubilee High School. Unfortunately our KS4 boys had Glynn School in their group who were once again very strong and our boys lost this match 5-0. We had our last group game against St Bede's knowing a win would put them into the semi-finals of the competition and the boys duly did this with a narrow 3-2 win overall. In the semi-final they came up against Howard of Effingham who were much stronger at KS4 and our boys lost 4-1 in the match. To finish the day the boys played Woking High in a 3rd and 4th play-off game which once again was very close but our boys were victorious with a 3-2 win to finish the day third place overall in Surrey.
In both competitions the boys competed really well throughout the day and to finish up second and third place school in Surrey for both competitions is a fantastic achievement for the College. Well done to all!
Mr Andrews - PE Department