District Cross Country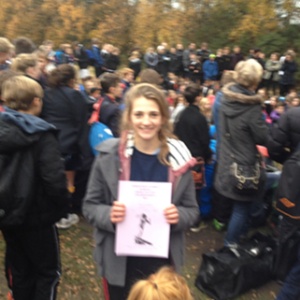 Collingwood students excel in the district cross country event.
On Tuesday 3 December a coach load of Collingwood students descended onto Lightwater Country Park for the annual inter-schools district cross country event. This is a very popular event and is well attended by 13 local schools. Each team consisted of up to seven runners with the first five counting towards the team event.
The Year 7 girls started off the day running a one mile race. The very impressive Kathryn Beckett managed to secure a 3rd place individually which was fantastic; overall the Year 7 girls finished in 5th place. In the boys event Luke Mann stole the show for Collingwood as he came in 1st by a clear distance of nearly 100 m; the boys combined team position was 7th. In the Year 8 girls event Becky Storer and Holly Davies performed incredibly well to finish 6th & 7th overall and Amy Bolton came in 18th. Unfortunately two of the team dropped out due to injury so the team could not claim an overall place. The Year 8 boys performed well with Harry Rice, Jamie Hobbs and Jamie Hoare all finishing inside the top ten which managed to claim the boys 3rd place overall in the team event.
In the Year 9 event the girls were under a little bit of pressure as the reigning champions but they certainly didn't disappoint! All five of our girls finished inside the top 30 which enabled them to retain their team title, notably Sammy Bonny finishing 2nd and Megan Raby in 5th position individually. The Year 9 boys performed well with Nathan Heard the highest place finish of 11th, the boys finished 6th overall as a team. Unfortunately we didn't have any Year 10/11 female runners but the boys certainly did well. Harry Grace achieved a 4th place, Ilias Hadeq 12th & Tim Gibbons 22nd, all these were extra special as they were competing against Year 11 students as well.
All in all, Collingwood had a successful day with some outstanding individual performances and also the Year 9 girls retaining their crown. We are already looking forward to next year so please do get involved!! A final thank you to all the parents who came out to support their children and all the Collingwood students for taking part.