Year 7 Football Team Take the Point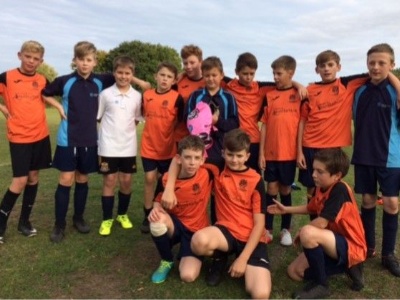 The Year 7 Boys continued their season this Monday with a much more convincing performance away at Cove School in Farnborough.
Dan Weathers opened the scoring after 4 minutes and in a game that finished 2:2, Jack Brown managed to snatch a goal in the second half to keep their heads above water.
A much better display from the boys with particularly good defensive performances from Billy Radburn and Josh Smith, and really good link up plays between Harry Dalton, Dan Prince and Marvin Wood.
Team: Rhys Shaw, Marcel Balicki, Elliot Croxton,Dan James, Josh Smith, Max Clark, Billy Radburn,Harry Dalton, Marvin Wood, Dan Prince, Dan Weathers, Jack Brown
Captain: Marvin Wood
Man of the Match: Dan Prince
Goals: Dan Weathers (1) and Jack Brown (1)
Training: Every Monday after College 3.15pm until 4.15pm
Next Game: Friday 5 October. Tomlinscote @ Home. 4.00pm K.O
Mr Beer - Head of PE Department