Year 7 Boys' Cricket News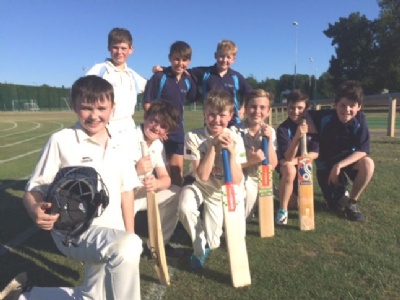 Year 7 boys play some superb cricket against tough opposition.
Collingwood vs Heath End
The Year 7 Boys' Cricket Team, made up of Bagshot Cricket Club players, West End Cricket Club players and thankfully some Collingwood College boys who are just prepared to give school sport a go, played a superb game of cricket on Friday 22 June against a very similarly put together cricket team from Farnham Heath End School.
Farnham walked away winning by 1 over and a half, with Collingwood having set a target of 90 – but the game was played in perfect spirit with a great combination of quite accomplished players and some developmental players who were nurtured by those slightly more experienced players.
Dylan Mears bowled their No. 4 batsman out, Cameron Bond bowled their No. 5 batsman out and Cameron Porter was complimented by Farnham teaching staff for his excellent captaincy skills. Freddie Price made huge improvements to his bowling as the evening went on and Olly Gandy also showed very consistent fast bowling.
Team: Cameron Porter, Dylan Mears, Jonah Doyle, Cameron Bond, Jack Barringer, Olly Gandy, Josh McMurray, Freddie Price.
Captain: Cameron Porter
Man of the Match: Dylan Mears
Cricket Training: Mondays after school in the Sports Hall. 3.15pm – 4.15pm
Collingwood vs Salesian College
The Year 7 Boys' Cricket Team continued their season on Tuesday 26 June with a glorious evening at Salesian College in Farnborough.
Setting 53 for Salesian to chase, not as much as they did against Farnham Heath End, Salesian were quick to reply winning with 7 overs to spare.
But a team led by Dylan Mears were cheerful, motivated and encouraging towards each other for the entire match. Adrian Jenkins needed no invitation to take out their No. 2 batsman in his first over.
Highlights included Cameron Bond's maiden over, Adrian Jenkins taking 2 wickets in 1 over, Josh McMurray staying in long enough to have to be retired and Kayge Obe and Albert McNamara who have only recently started learning cricket, but managed to stay in for a considerable amount of time, playing a series of commendable straight shots
Team: Adrian Jenkins, Cameron Porter, Cameron Bond, Dylan Mears, Will Rangecroft, Josh McMurray, Albert McNamara, Jack Barringer and Kayge Obe
Captain: Dylan Mears
Man of the Match: Adrian Jenkins
Mr J Beer - Head of PE Department