Year 9 Girls Basketball News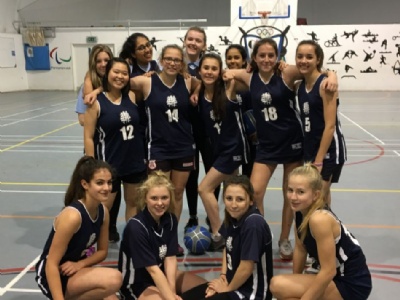 Year 9s are showing signs of being a really strong team.
The Year 9's played their first two matches of the season, the week commencing 13 November. For the majority of the team it was the first time they had ever played a competitive Basketball match.
I was really impressed by the standard of play and I think that if they continue to play then they will be a really strong team.
They played Woking High first and only narrowly lost 16 - 12. It was a really close game throughout but Woking edged away at the end and won by 2 baskets.
The second match was against George Abbot from Guildford. This team had some regular players who really made a difference. It was still extremely close but we lost 18 - 12.
Team: Jasmine Akbar-Phillips, Katie Wright, Tayler Staples, Tamara Ford, Maya James, Elizabeth Walker, Anastasia Kalaboka, Amy Wearden, Megan Jones, Lana Willing, Maahia Rahman, Shree Singh, Wendy Li.
Well done. I'm really looking forward to the next match.
Mrs Daniel - PE Department