Year 7 Boys Compete in First Rugby Tournament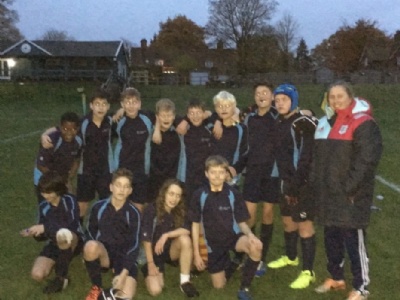 Tremendous effort for our new Year 7 rugby team.
On Tuesday 14 November the Year 7 boys competed in their first rugby tournament at Gordon's School. I had never seen them play before but considering that for some of the boys this was their first game of rugby, after training for months, I was impressed and as the games went on they got better and better. The results, for 5 minute games due to light, are as follows: 1st game Gordons' B team 1-0 Collingwood, Salesian, Chertsey 5-0 Collingwood, Fullbrook 1-0 Collingwood and then the final game it all came together Collingwood 2-1 Woking high with a dominant run from Tom Parry to set up the first try and two fantastic sprints from Leon down the left wing to finish off both tries!
Team: Joe Kirby 7E, Fin Dent 7E, Fin Harris 7G, Henry Clarke 7C, Cameron Bond 7B, Thomas Parry 7B, Harris Winterbottom 7E, Elliot Street 7G, Kevin Mazayi 7C, Matthew Chennells 7E, Cody Silverstein 7E, Leon Cabanas 7B
Miss Robinson - PE Department