Rugby News Autumn Term 2017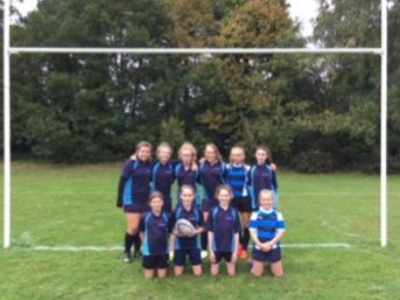 Successful start to the rugby season.
Girls Rugby
Under 13s (Years 7 and 8)
On Monday 9 October St. Bede's travelled to Collingwood with their U13 girls rugby team. For many of the girls this was their first game of contact rugby and thoroughly enjoyed themselves. We lost 6-5 in the last play. The Week afterwards Monday 16 October we played a tournament hosted by Collingwood with visitors being SJB, Salesian and Weydon. The U13 team won all their games in style.
U13: 1st Collingwood, 2nd Weydon, 3rd SJB, 4th Salesian
Furthermore, that same week, on Wednesday, they played Ash Manor and comfortably won. We have two Surrey players for the U13 team Jesse Gates 8I and Blyth O' Mahoney 7C. I am very excited to see how the new Year 7s develop and encourage all of them to join a local rugby club in their area.
Team: Mia Evangelista 8E, Jesse Gates 8I, Lucy Duckworth 8G, Charlotte Devlin 8G, Blyth O'Mahoney 7C, Bethan Grant 7C, Abigail Reid 8I, Sophie Grainge 7I, Paige Daniel 8J, Ella Sanderson 7C.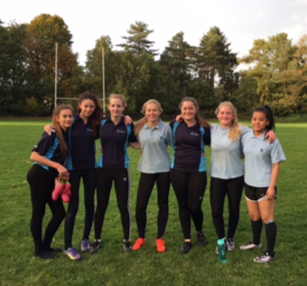 Under 15s (Years 9 and 10)
U15: 1st Collingwood 6 points (5 tries), 2nd and 3rd SJB and Weydon (4 tries)
On Monday 16 October the U15 girls that played last year rallied round and got a very good team together. For a few girls this was their first game of contact rugby, learning how to tackle 30 minutes before the teams arrived! All of the U15 girls were excellent showing lots of natural ability. We won the tournament v Weydon in the last play. The tournament was hosted by Collingwood, with visitors being SJB and Weydon.
Team: Safina Gurung 10D, Ella Hill 10H, Maddy Rabey 9A, Isobel Little 10G, Shayna Watson 10H, Rebekah Sistig 10C, Caitlin McGeary 10H.
Year 10 Boys Rugby
The boys have played three games so far. We have struggled with serious injuries especially with concussion meaning players are out for 23 days at a minimum. We played away against Orleans Park in the first round of the NatWest Bowl on Monday 25 September. Although it was a very close game we eventually lost to a converted try from a tap penalty on our defensive 5 metre line. However, from that defeat they overcame their disappointment to convincingly beat Reigate school 41-19 on Tuesday 10 October at home. The boys were very excited about playing at home for the first time. This game was good as newer players to school rugby really showed their natural ability for being able to beat players and make tackles. Finally, the last day of College before half term we travelled to High Wycombe with a depleted team of our regular club rugby players to play Sir William Ramsey. We stopped the game after 35 minutes as we were winning very strongly at 73-0. Next rounds are Kennet School in the NatWest bowl and Hinckley Wood in the Surrey Cup. Well done to everyone especially the new boys that have enjoyed coming to games and playing.
Team: Harry Johnson 10E, Josh Lovell-smith 10I, Finn Ward 10E, Luke Wiseman 10C, Daniel Parry 10E, Tom Wyatt 10K, Chris Lear 10E, Danny Watson 10K, George Inoke 10K, Matt Hill 10A, Jay Dhaliwal 10F, Euan Jardine 10D, Judd Dugdale 10B, Jakob Carl 10I, Alex Emery 10E, Kyle Odendaal 10I, Matthew Barnett, Toby Nowell, Cameron Voss.
Rugby training for girls is on Wednesdays after College for U15s and U13s. Boys training is Thursdays for all years.