Girls' Rugby News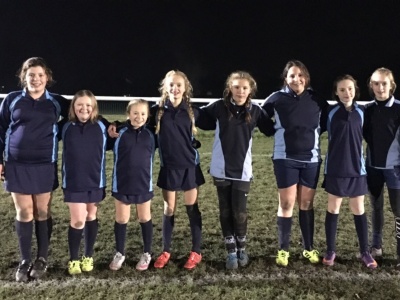 Girls' rugby teams continue to improve.
On Monday 5 December the under 13 girls' rugby team played in a tournament arranged by Collingwood at Chobham RFC. Seven Schools attended and Collingwood won all their matches but one. For most girls on the team this was their first experience of a full contact match and they were incredible.
As we moved through the matches the girls grew in confidence and thoroughly enjoyed themselves. Many thanks to Chobham RFC for letting us host the tournament there using their floodlights. The regular training sessions that they have all attended have made a huge difference.
Team: Mia Evangelista 7E, Heidi Perkin 7C, Jessica Gates 7I, Lucy Duckworth 7G, Maddy Rabey 8A, Nicole Sturcke 8E, Huria Chentouf 8A, Caitlyn Mcginty 7I, Charlotte Devlin 7G.
We are also extremely proud of Maddy Rabey in Year 8 for making the Surrey rugby team; we wish her well in her forthcoming matches.
On Tuesday 6 December the under 15 girls played a rugby match against Woking High. It was meant to be a tournament arranged by Collingwood to be played at Camberley RFC, however, some schools pulled out. Therefore, Collingwood and Woking played a 40 minute match with four quarters to give coaching tips. The Collingwood girls' team were of mixed experience as some have played since Year 7, some have played only once before and some were brand new to the sport. Woking High has two county players and this was an excellent chance for our girls to compare performances and realise how amazing they are, considering they do not play for a club. The first quarter we were blown away and then we prepared properly mentally and got ourselves into the game with tries from all players. Ella Hill and Jade Cartwright were so impressive defensively making big hits! Our passing was excellent and that allowed the girls to score wide on the outside. Finally, this was their first match with rucking and all things considered I'm a very proud coach for how they did with little or no practice. Many thanks to Camberley RFC for letting us use their floodlit pitches.
Well done to Safina Gurung 9D, Brianna O'Shaughnessy 10D, Georgia Carr 10C, Abi Stewart 9D, Sophie Harris 9H, Ella Hill 9H,
Jade Cartwright 9C.
Miss Robinson - PE Department