Battle of the Somme 1916 - 100 Years On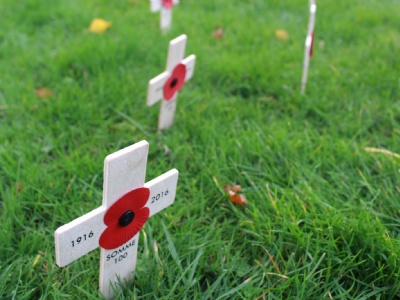 Collingwood marks the 100-year anniversary of the end of the Battle of the Somme.
Friday 18 November 2016 was a very special day at Collingwood as we marked the 100-year anniversary of the end of the Battle of the Somme.
Many of you purchased crosses for your children to plant and honour the thousands of service men who fought and died in the battle. We sold over 200 crosses, the proceeds of which go to the British Legion who do sterling work to support veterans and current service men and women and their families. What has been left at Collingwood is an impressive circle of crosses which commemorates the sacrifice that the soldiers in this particularly bloody battle, gave. The inner circle has the names of the 22 soldiers from Camberley who lost their lives in this battle.
It is important for schools to encourage students to reflect on moments in history such as this one and to remember the cost of human sacrifice. The Battle of the Somme was fought at such terrible cost that it has come to symbolise the tragic futility of the First World War. Its first day of conflict remains the bloodiest day in the history of the British Army and it was felt deeply at home.
As staff, students and members of the public planted their crosses we were treated to some wonderful poetry readings and music from Mrs Ramskir and her orchestra.
The ceremony closed with a touching two minute silence and despite it being lunchtime and in the middle of the KS4 playground, you could have heard a pin drop as the community remembered. We were all incredibly proud of our students for taking part in this ceremony so thank you once again for making it happen.
Mrs Wright (Assistant Principal)