Students Battle it out in New Robot Wars Club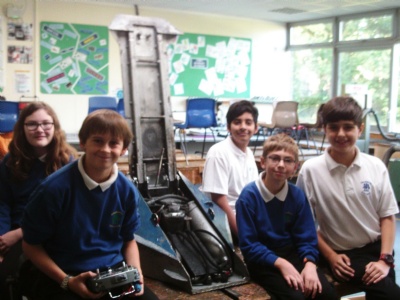 In the Technology Department, a new College club is starting - Robot Wars!
Each week, the club meet to design, build and battle their very own fighting machines based on the hit BBC2 Television Show Robot Wars.
Robot Wars is a contest where teams from all over the country build robots which are designed to destroy other machines. They fight in a specially made, bulletproof arena for up to 3 minutes. If there is no clear winner, a panel of expert judges will choose the victor based on damage, control and aggression.
In the latest series of the show, Mr Thomas (Technology Technician) took part with his robot 'Shockwave' winning the second heat of the series and making it through to the Grand Final before losing to the eventual runner up Carbide. Shockwave is a 110 kilogram robot with a powerful drive system which can pull a fully loaded minibus and is armed with a lifting arm. It is made from military grade armour plating which allows it to withstand even the toughest of attacks!
Since appearing on the show, Mr Thomas has started the Robot Wars Club at Collingwood. The club meets in V Block every Wednesday lunchtime and after College until 4.30pm, and is aimed at students from Years 7-9 although older students can still take part. Currently, the students are designing their own mini antweight class robots in small teams which will battle it out at the end of the term to determine which of their creations is the toughest! The next challenge will be to build a pair of 13 kilogram featherweight robots to take part in a national competition in 2017!
This week, during Years 7, 8 and 9 assemblies, Mr Thomas took along Manta, another heavyweight class robot armed with a powerful pneumatic flipper. Each lunchtime, a demonstration took place showing how 4 tonnes of flipping power can send a car tyre flying into the air!
During the assemblies Miss Woffinden introduced our new competition which will take place during registration. Both staff and students will be invited to submit designs for their very own fighting machines. The winners from each category will have their robots made into fully working versions ready to battle it out in our very own Collingwood competition!
Since this is a new club we would appreciate any donations or parts to go towards the funding of our awesome machines! In particular, if anyone has any old/broken cordless drills, electric motors or pieces of metal which they would like to donate please contact Mr Thomas via email: w.thomas@collingwood.surrey.sch.uk .
Mr Thomas - Technology Department