Records Broken at Annual Sports Day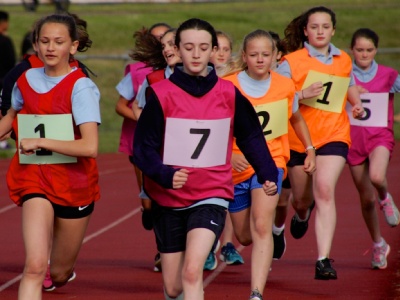 Annual Sports Day proved to be a great success, enjoyed by parents, governors, staff and students alike.
Wednesday 15 June saw Years 7, 8 and 9 once again competing for Gold, Silver and Bronze at the annual Collingwood College Sports Day at Bracknell Athletics Track. A very well trained and composed team of Year 10 GCSE PE students comfortably officiated all events and demonstrated the skills they have developed in their GCSE PE Practical lessons. The forecasted rain storms stayed away and an impressive turn out from parents further added to the atmosphere. Entry numbers from Years 7, 8 and 9 were highly impressive and their performances equally as commendable.
A huge well done to Emily Dillamore who broke records in the Year 7 Girls 200 m and 300 m and to Jonny Chapman for setting new school records in the Year 7 Boys 200 m and 800 m. Further successes in Year 7 came from Maya James breaking the school record in the Year 7 Girls Long Jump and Oliver Hoare for setting a new school record in the Year 7 Boys 300 m.
A very special mention to Jules Rabey who smashed the Year 7 Girls 800 m school record by a huge margin. Luke Mann and Thomas Handley continue to make their mark with Luke setting a new school record in the Year 9 Boys Triple Jump and Thomas Handley broke the record for the Year 9 Boys 200 m. Sophie Wilkinson got involved for the Year 9 Girls, breaking the record for the Girls 300 m.
Congratulations to all participants and their achievements.
The PE Department would like to take this opportunity to thank the admin team for their valiant effort, Mrs Goggin for supporting the event with First Aid arrangements, Mr Middleton, our College photographer, for capturing the evening so perfectly and all those NQT's, pastoral staff and SLT who gave up their evening to support the students.
PE Department