Year 7 Student Excels at Gymnastics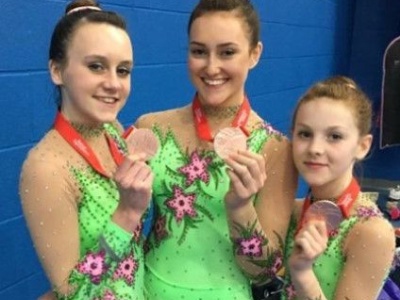 Grace Cromwell (7B) and her team receives Bronze medal at British Gymnastics Acrobatic Finals.
Last weekend Grace Cromwell (7B) together with her team mates (Genevieve Palmer and Jessica Dupree of Tomlinscote) from L&G Acro Gymnastic Club travelled to the British Gymnastics Acrobatic NDP Finals held in Stoke-on-Trent.
The girls had worked hard throughout the previous competition year and won the South East Regional Qualifier in May in order to secure a place at the Finals in Stoke.
The Competition was provided by the winners of each region, covering England, Ireland, Scotland and Wales.
Grace and her Trio competed at Grade 6 and had to perform two routines. After the 1st round (Dynamic routine) in the morning they were placed 4th (out of 12), later in the afternoon they performed their Balance routine and managed to pull up a position to finish 3rd and bring home a Bronze medal! Congratulations to Grace and her team!!