Collingwood Students are Golf Champions Once Again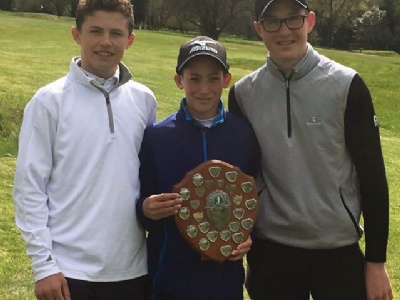 Amazing success for Collingwood boys at the Surrey Golf Championships.
On a lovely afternoon in late April Collingwood students enjoyed amazing success at the Surrey Golf Championships held at Chipstead Golf Club for the Whitfield Shield.
Collingwood's team, consisting of Adam Cowley and Hayden Campling (Year 11), along with Ethan Millham (Year 9), were victorious in the team competition winning the Shield for the fourth time since it was first played for in the late 1980's.
With the best two scores counting it is always crucial for all of the boys to play well and whilst normally teams get one or two boys having an excellent round it is rare that all three play as well as the boys did on the day, eventually winning by 10 shots!
Being both a gross competition (scores without handicaps taken into account) and a net handicap competition it speaks volumes that the boys all picked up prizes in the individuals competitions on both areas too.
As a consequence of winning the team competition the boys have gained entry for the College into the National Championships to be held at the home of the English Golf Union at Woodhall Spa in Lincolnshire, something all the boys are looking forward to.
Results
Team Competition
1. COLLINGWOOD COLLEGE 158
(Adam Cowley 80, Hayden Campling 78, Ethan Millham 82)
2. Whitgift 168
3. Glyn School 168 (countback)
Individual Gross Competition
1. N. Woodham (R'Cote) 77
2. HAYDEN CAMPLING Collingwood College 78
3. ADAM COWLEY Collingwood College 80
Individual Net Competition
1. C. Floater SJB net 60
2. D. Burton Whitgift net 65
3. ETHAN MILLHAM Collingwood College net 66
Congratulations to all the boys.
Mr Cleary - Assistant Principal