Year 12 Student Awarded County Colours in Golf!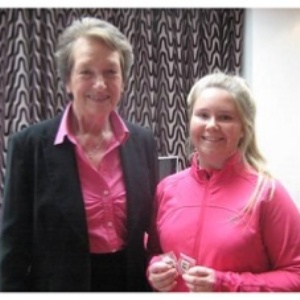 Congratulations to Sarah Wilmore (Year 12) who was presented with her County colours by Jill Thornhill (County President).
In order to be presented with her colours, Sarah had to play for the juniors in Junior County Week against the four other Counties: Kent, Sussex, Hampshire and Middlesex, plus win her matches. Sarah had a successful year and was presented with her colours by Jill Thornhill, County President 2015.

Sarah was also delighted to be selected to play for the ladies' second team in the Stovold matches, against the other four county teams. In 2014, at the age of 15, she played her first foursomes match at Windlesham with Fiona Horrocks against Middlesex and won, her singles match was halved. In 2015 Sarah was prepared to rise again to the challenge and played in all the matches against Kent, Sussex, Middlesex and Hampshire. She won three of her singles matches and halved her match against Sussex, in the foursomes she won 2 lost 2. Surrey played really well only to lose out coming second to Sussex who had an amazing year.

In recognition of her performance, Sarah was presented with her Second Team county colours, one of the youngest ladies in Surrey to have achieved this. Her ambition is to be selected for the ladies' first team and is working hard to reduce her handicap so that she can achieve this.