Duke of Edinburgh's Award Success 2015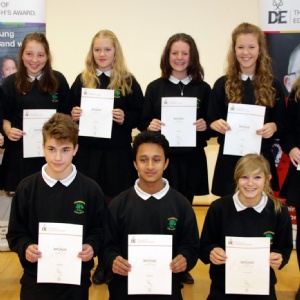 134 students receive Bronze, Silver and Gold Awards!
Last Wednesday saw the Annual Award Ceremony for the Surrey Heath Duke of Edinburgh's Awards at Tomlinscote school.
This event is an occasion for schools in the local area, who offer the Award, to come together and celebrate the achievements of all the students who have completed their awards over the last 12 months.
The evening was a huge success and attended by VIP's including Cllr John Winterton, Deputy Mayor of Surrey Heath, and Mrs Sally Marks, Chairman of Surrey County Council, who between them presented all the awards. Mrs Griffiths and Mr Tanner, Collingwood's Co-Principals also attended.
This last year the Duke of Edinburgh's Award has been a huge success at Collingwood and this was exemplified by the number of students showing their commitment to the programme and finishing their Awards.
98 students from Year 10 completed the Bronze Award programme. Another 17 students from previous years also received the Bronze Award bringing the total number from Collingwood to a whopping 115! All students completed the required time on each of the sections of the Award; Volunteering, Physical and Skills. Not to mention the fun expeditions they took part in in the Surrey Hills. This year Bronze students collectively walked over 4600 miles in their Expedition sections!
Collingwood also had an impressive number of students for the Silver Award with 18 students completing the Award requirements. The Silver Award is a more committed award than the Bronze and takes a minimum of six months to complete for students who have previously done their Bronze Award.
Collingwood had even more reason to celebrate this year with Alice Clelland completing her Gold Award. Alice put in a tremendous commitment to complete her Award. Alice Volunteered with the Air Cadets, completed her Physical by doing swimming training and for her Skill Section achieved her Pool and Beach Life Guarding qualification. The Gold Award also meant Alice had to take part in a residential activity for a week with a group of people she didn't know. Alice took the exciting step to do this on a Tall Ship which sailed from port to port for a week. During this time Alice learned to sail, take part in the crews' tasks and share meals and fun on board. Alice also took part in a 4 day expedition on Dartmoor where the weather can be changeable at best. Alice and her group battled horizontal rain and deep bogs to complete their expedition last Easter... no small feat! Alice most enjoyed her residential section. She said "The Tall Ship residential was a huge challenge, and I enjoyed meeting and working with people I didn't know. By the end of the week we were having really good fun on board, whilst also working together seriously to get all the jobs that needed doing to sail the ship. It was a fab experience!"
The Duke of Edinburgh's Award is a personal development programme which is clearly recognised by employers as a gauge to the commitment young people can make, and maintain, over a period of time. It aims to develop and enhance their confidence, practical and organisational skills, team working capability and problem solving abilities.
By the sheer numbers of students completing the Award this year it speaks volumes about their commitment over the last year, and this indeed gives cause to celebrate at Collingwood.
As Centre Manager for the Duke of Edinburgh's Award programme I feel that it is only right to thank all those who supported and helped these students achieve their Awards.
Firstly, on behalf of the Award team at Collingwood, I would like to thank the Parents and Friends of students who have helped them maintain their commitment and helped with their expedition preparations. Secondly, I would like to thank the teachers and other adults who acted as support and assessors for the various sections that students worked on. Thirdly, I would like to thank teachers, parents and other volunteers who came out on the expeditions and made them work smoothly and efficiently. Thanks also to the Co-Principals and Senior Leadership team for their support for the programme this year.
Lastly, I would like to thank the administrators for their work on all the programmes, Bronze, Silver and Gold, and in particular Fenella Attewell who has worked tirelessly on the Bronze Award to manage and organise all the admin for the expeditions which was a huge job.
With all that said, well done to the stars of the show last Wednesday, all the students for committing to, and achieving their awards. You are all a huge credit to the College and our community in Surrey Heath, well done!
Mr Diver - Duke of Edinburgh's Award (Centre Manager)
ANY PARENTS WISHING TO GET INVOLVED IN THE 2016 EXPEDITIONS, PLEASE CAN THEY GET IN TOUCH WITH ANY MEMBER OF THE AWARD TEAM.