Freshers' Bake Sale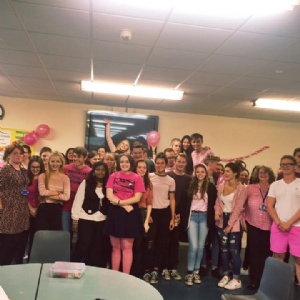 Sixth Formers raise funds for Breast Cancer charities.
As part of the Sixth Form Freshers' Week, 'Wear Pink on Wednesday' was the theme for Wednesday 16 September to help raise awareness for Breast Cancer.
Sixth Formers baked, purchased and ate cakes to raise money for three Breast Cancer charities: Cancer Research UK, Breast Cancer Care and CoopaFeel. It was a veritable feast of pink cookies, tray bake brownies and sprinkled cupcakes, and the rocky road sold out within 15 minutes. Students and teachers bought cakes for £1 and were educated on the matters of Breast Cancer checks for free.
As my first event as Charities Officer I am extremely proud to announce that the total raised on this very pink day was £136.98.
Jenny Benson, Charities Officer (Year 13)