Year 13 Student Helps to Raise Funds for Nepal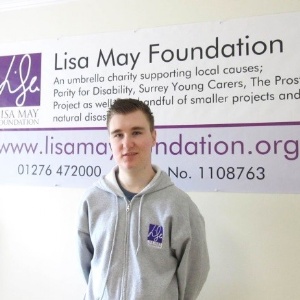 Nick Ransom uses his filmmaking skills to create videos for local charity appealing for Nepal earthquake donations.
The Lisa May Foundation (LMF) was set up after the 2004 Indian Ocean tsunami and since then has helped provide funds for other natural disasters. In recent years, focus has turned to local causes after it became an umbrella charity in 2007 but the recent devastating earthquake which hit Nepal on 25 April 2015 inspired our 6th Form student, Nick Ransom …..
In recent weeks, Nick has put his filmmaking skills to good use, helping to bring local stories together in three fundraising films featuring local people, including those from the Nepalese community. Nick filmed and edited the first video a day after the earthquake in which Dr Kapil Rijal (who has now left for Nepal to help provide aid with 20 other doctors and volunteers) appealed for initial donations. This helped raise almost £10,000 in the first three days. A second video was released two days later and included an appeal from the Rt Hon. Michael Gove as well as the chairman from the Nepalese Doctors' Association, Dr Arun Jha. The Rt Hon. Michael Gove's PA who had to approve the video he was in, emailed Nick to say the video was excellent and wished him luck for the fundraising.
Nick worked closely with Cheryl D'Cruz, LMF fundraising manager who commented that; "When the earthquake in Nepal struck, Nick immediately offered to help make an appeal video. The way in which he carried himself and worked with the wide range of people he was asked to film was admirable. He not only kept his cool under pressure, he made a total of three appeal videos with us in just six days. Nick's creative flair combined with his editing skills helped us raise in excess of £30,000 over the past eight days."
Cllr John May, who lost his daughter in the 2004 tsunami and is the founder of the Lisa May Foundation, said "Nick has done a tremendous job in an extremely pressurised timescale."
Nick said "It's been a great experience. I'm so glad I could help the foundation raise desperately needed funds for Nepal. Filmmaking is something I really feel passionate about and it's been incredibly powerful to see my videos reach larger audiences whilst making such a difference to people's lives on the other side of the world."
Over the weekend ITV News Meridian aired a report about the Lisa May Foundation that also contained clips of Nick's videos. It can be found at http://www.itv.com/news/meridian/update/2015-05-04/volunteer-doctors-head-to-nepal-to-help-earthquake-victims/.
Nick will be continuing his prospective media career at the University of Salford, Manchester, and has been offered an unconditional place to study Television and Radio next September.
You can find out more about the Lisa May Foundation by visiting its website (www.lisamayfoundation.org) or by visiting its Virgin Money Giving page (http://uk.virginmoneygiving.com/team/EarthquakeAppeal).