Funds Raised for Local Wildlife Rescue Charity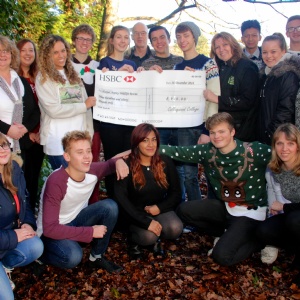 On Tuesday 16 December Collingwood 6th Form students and staff presented a cheque for £930 to the Harper Asprey Wildlife Rescue charity.
Harper Asprey is a small registered wildlife charity that last year responded to over 1600 wildlife casualties. Each year this number increases along with costs. The volunteers care, treat and rehabilitate all types of British wildlife.
Anne Brummer and Natalie Rawlings from the charity attended the presentation and were extremely grateful to receive this generous donation. The funds were raised by our fantastic students at this year's Fun Day which took place at the end of the Summer term. Harper Asprey was the chosen charity to receive the donation this year as a result of a lone hedgehog being found on the Sixth Form field earlier in the year; a phone call was made to the charity who then took the hedgehog in.
Fun Day at Collingwood is an annual event held outdoors at the end of the Academic Year on our beautiful green grass site. It has taken place every year since 1993 when Miss Roberts (Head of Drama Department and Sixth Form Personal Tutor) originally set it up as a whole College activity organised by our fantastic Sixth Form. Each year our Sixth Form, ably led by the Senior Prefect Team, organise the whole College, and staff, for an afternoon of fun. Each form group runs a stall ranging from 'Guess the Teacher as a Baby' to 'Guess the length of someone's pet Iguana'! Camberley Fire and Rescue Station and Camberley Police also support Collingwood's Fun Day.
This year Mrs Hamilton (Head of Sixth Form) organised the whole event which resulted in the £930 being raised for Harper Asprey. Well done to all the students and staff who were involved in this year's Fun Day and thus raising funds for this local worthy cause.