Students Compete in Worldwise Geography Quiz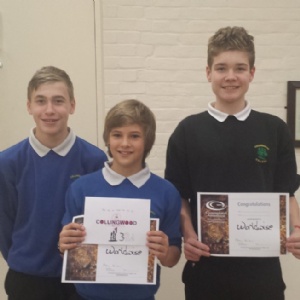 Collingwood's Team 1 come joint third in Worldwise Geography Quiz.
Collingwood students were lucky enough to have the opportunity to take part in a Worldwise Geography Quiz at Gordon's School on 1 December against Tomlinscote, Winston Churchill, SJB and Ash Manor. It was an educational and enriching evening for them all, as well as a lot of fun.
The quiz started at 6.30pm and the first half of the quiz lasted 45 minutes. Then there was a break for food and drink to recharge before completing the quiz at 8.30pm. The emphasis of the quiz was based around Landmarks, Map Skills, Fieldwork and Places.
All students should be very proud of their achievements. Collingwood's Team 1 (Harry Whelan, Sam Everett and Christopher Hockey) came joint third with SJB. Tomlinscote won with Winston Churchill coming second. The winning team holds the Shencyn Hughes Geography Trophy for the next year. All students received a certificate for taking part.
Congratulations and thanks to the following students for taking part: Alexander English, Christopher Hockey, Darci Goulty (Year 8), Samuel Everett, Katherine McKee (Year 9) and Aarzoo Hussain and Harry Whelan (Year 10).
Miss Evans - Head of Geography Department