Year 10 Business Students 'Interviewed' by Costa Coffee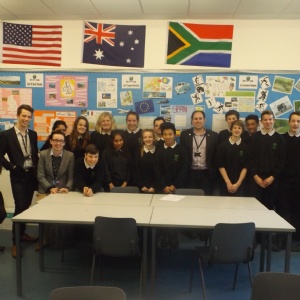 Year 10 Business students 'interviewed' by Costa Coffee entrepreneurs as part of their Recruitment and Selection Assignment.
On Tuesday 18 November, 16 Year 10 students from the BTEC Business course 'faced unemployment' as three entrepreneurs from Costa Coffee came in to interview them as part of their Recruitment and Selection Assignment.
The students faced ten minute interviews with some tough questions; they had to be prepared to answer questions on anything, ranging from career aspirations, to their strengths and weaknesses and what value they could bring to the company. The students answered with aplomb and, despite some obvious nerves, handled themselves professionally and with enthusiasm.
The managers from Costa Coffee were very impressed with what they saw and after the interviews gave the group some feedback as well as tips for future life. The main lesson being to use their personality and confidence more in the interview room and to show a real passion for the job they are applying for.
The students involved were: Amy Elliott, Raheena Beno Gani, Bhupendra Gurung, Karl Hampshire, Harry Hunt, George Jackson, Andros Khalik Badda, Nicole Littleboy, Samuel Longmuir, Caitlin Major, Abby Nortje, Emily Packer, Daniel Ramos, Manisha Sapkota, Luke Sebastian and Jesse Traves.
Mr Metcalfe - TVIBE Faculty