Rave Reviews for our Sixth Form Revue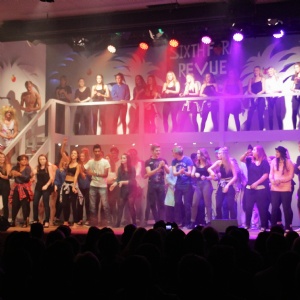 Oooh… what a night! Over 90 students were involved in the Sixth Form Revue 2014, and what an evening it was.
Our two eloquent comperes, Sam Hanger and Josh Rice, guided us through an evening of satirical comedy sketches, music, singing and contemporary dance.
Sketches ranged from Ganesh's David 'Blackenborough' spoof of Year 7 students travelling between buildings to the Monty Python inspired 'Dinner Ladies' with Dan Foreman's hair-netted 'Lady' refusing to serve Mr Tanner. Front of House were definitely on the ball with raffles and refreshments . . . and finally the incredible technical team who believed and succeeded with their lighting, amplification, setting, striking as well as corralling our wonderful performers!
£1375 was raised from the two performances and, as a result of the charity raffle, funds were raised for Ditch the Label, an anti-bullying charity with a difference.