Luke Excels in Track and Field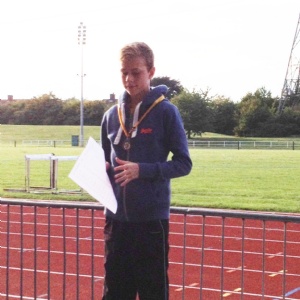 Luke Mann (8C) wins Silver in recent Pentathlon competition.
Luke Mann (8C) is starting to get everyone's attention in the PE Department. Apart from being a strong member of the Year 8 boys' football squad, Luke is fast becoming a name in Cross Country, Athletics and Pentathlon. He recently won a Pentathlon Silver medal in Sutton on Saturday 13 September, setting some remarkable scores in the following events:
Long Jump 4.42 m
75 m Hurdles 14.26 s
Shot Putt 5.20 m
800 m 2 mins 30 s
High Jump 1.51 m (Personal Best).
Last year he received a Bronze medal in the Pentathlon and is looking ahead to a Gold medal next year. Further to this, Luke recently represented the College in cross country and comfortably came 2nd in Round 1 of the English Schools Cross Country Competition in Guildford.
Congratulations Luke on some highly commendable achievements! Keep up the hard work!
Mr J Beer - Head of PE Department