International School Award Success for Collingwood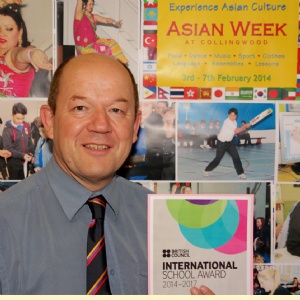 Collingwood has yet again been awarded the British Council's prestigious International School Award for the next 3 years.
Collingwood has been awarded the British Council's prestigious International School Award in recognition of its work to bring the world into the classroom.
The International School Award is a badge of honour for schools that do outstanding work in international education, such as through links with partner schools overseas. Fostering an international dimension in the curriculum is at the heart of the British Council's work with schools, so that young paeople gain the cultural understanding and skills they need to live and work as global citizens.
As was reported in the newsletter last year, Collingwood's international work includes active exchange links with schools in France, Spain and China, a very successful 'Asian Week', an Environment group, further College links with education establishments in the Philippines and Thailand, as well as an occasional 'Student International Group'. In addition, the College co-operated with a neighbouring primary school to establish a link with a school in Sri Lanka.
On hearing the news that Collingwood had received the Award, Mr Bunter, ISA Co-ordinator, said that this was really a team effort in gaining this award, with all staff supporting the many projects in many different ways, with tremendous help from students, governors and the site team. The inaugural 'Asian Week' was a particular delight, as it successfully drew attention to the contribution that the local Asian community makes to the College and beyond.
2013/14 saw more than 500 schools receive International School Award accreditation. This includes a wide range of schools from a variety of different backgrounds and areas across the UK. The British Council hopes to build on this success throughout 2014.
The Award is now available worldwide in countries such as India, Sri Lanka, Egypt, Lebanon, Cyprus, Pakistan and Nigeria as part of the British Council's Connecting Classrooms programme. Around 5000 International School Awards have been presented to successful schools in the UK since the scheme began in 1999.
The ISA encourages and supports schools to develop:
An international ethos embedded throughout the school
A majority of pupils within the school impacted by and involved in international work
Collaborative curriculum-based work with a number of partner schools
Curriculum-based work across a range of subjects
Year-round international activity
Involvement of the wider community.