Collingwood are Victors of SHAPE Spelling Bee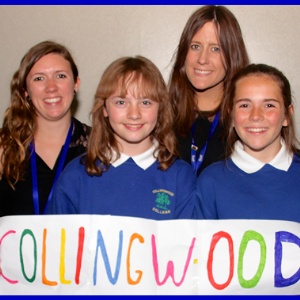 On Friday 27 June Collingwood's spellers win both the team and individual Spelling Bee competitions, competing against Tomlinscote and Kings International.
Perspicacious, quinoa, and dodecahedron… Just a few of the seemingly-impossible words that Collingwood pupils correctly spelled and showed-off in SHAPE's first, inaugural Spelling Bee on Friday 27 June.
The 15 students from Years 7 and 8 (chosen for their impressive dexterity with letters) took part in the gruelling contest, ascending the stage to individually sound-out the characters in a list of words which ranged from difficult to fiendishly abstruse. To miss out a letter, to utter the wrong one, or to confuse a homophone meant immediate expulsion from the stage.
Competing against teams from Tomlinscote School and Kings International, the chosen Collingwood spellers managed to not only win the team competition by collectively amassing the highest score, but also secured an overall champion speller in the shape of Khadeejah Hullemuth (7D), who wowed the visiting schools and teachers with her impressive spelling knowledge.
The Collingwood champions look forward to retaining their title and trophy when they next meet their SHAPE rivals in 2015.
Miss Trotman and Mr Ruffles - English Department