Wings of Hope Founder Visits Collingwood!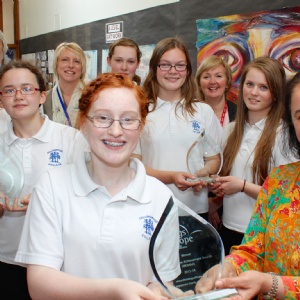 The CEO and Co-founder of the Wings of Hope Organisation visits Collingwood to congratulate Team STEP on winning a Wings of Hope Achievement Award.
On Friday 6 June Rajni Sriram, CEO and Co-founder of the Wings of Hope Organisation, visited Collingwood where she met with the Co-Principals, Mrs Griffiths and Mr Tanner, and also Team STEP, Stefy Barton, Sophie Collard, Jasmine Farrelly, Emily-Anne Rance, Francesca Reynolds and Lucy Warren.
She congratulated the team once more on their achievement in winning a Wings of Hope award, and spent some time explaining to the Co-Principals how the awards and the Organisation operates. She also presented Collingwood College with a framed certificate to note their participation in the scheme.
Mrs Sriram said that she was delighted to be able to visit the College once more and to meet the new Principals. She commended the team and said that they and the College should be extremely proud of both their achievements and also the valuable life lessons that participation had provided them with. She said that she very much hoped that there would be future teams competing, inspired by Team STEP.
Mr Tanner and Mrs Griffiths were extremely grateful that Rajni was able to take the time to visit the College, enjoyed hearing more about the scheme and thanked her for the Certificate. They also discussed their hopes that future teams from Collingwood would participate.