Team STEP win a WOHAA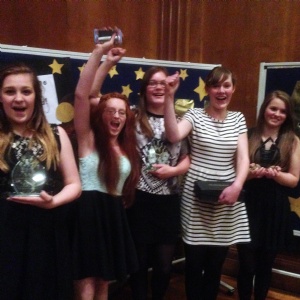 Team STEP (all Year 10 students) win a Wings of Hope Achievement Award (WOHAA) for having the 'Most Innovative Fundraising Campaign'.
On Friday 2 May the Year 10 WOHAA (Wings of Hope Achievement Awards) team attended the finals and awards ceremony for this year's competition. Their parents and Mrs Green accompanied them and were all delighted to witness them winning the award in the 'Most Innovative Fundraising Campaign' category. Team STEP raised in excess of £2000 which goes to fund education for students in India and Africa.
There were just 7 awards made for varying categories and, based on the fact that there were over 350 teams competing countrywide in the initial roundAs of the competition, the team should be extremely proud of their achievement. They were all given a lovely trophy to take home.
The team stood up and took a bow in assembly on Tuesday, and during the course of this week the girls will be personally congratulated by Mrs Griffiths and Mr Tanner. And the winning team are:
Stefy Barton, Sophie Collard, Jasmine Farrelly, Emily-Anne Rance, Francesca Reynolds and Lucy Warren.
Well done girls!