Key Stage 1 Music Festival Held at Collingwood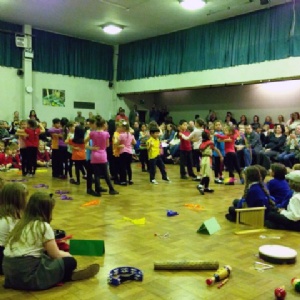 On Tuesday 25 March and Wednesday 26 March 11 Infant and Primary schools met together at Collingwood to rehearse, sing and dance together at the annual festival of music and dance.
On the morning of Tuesday 25 March 11 schools met together at Collingwood College to rehearse and dance together at the annual festival of music and dance; this year the theme was "Musicals" and all the songs were performed by Year 2 children (6 and 7 year olds). The children performed in front of the Mayor of Surrey Heath, Councillor Beverley Harding and governors from the participating schools.
The schools who took part were: The Grove, Lakeside, St Augustine's, The Orchard, Tall Trees, Valley End, Windlesham, Lightwater, Bagshot, Pine Ridge and Lorraine. The children performed such songs as:
Inchworm
The Bear Necessities
Under The Sea
Chim Chim Cheree
You've Got A Friend In Me
The narration was read by Year 6 pupils from Redwood, The Grove, St Augustine's and Lakeside schools.
Three schools, Lightwater, St Augustine's and Valley End, also performed a dance; each one so different but equally excellent.
On Wednesday 26 March at 7.00pm the children all assembled again to perform in front of their parents; it was an amazing event and the children's performances were wonderful. The atmosphere of excitement and enthusiasm was uplifting and the performances by such young children shows that if you have high expectations the children always rise to the challenge.
I would like to thank all the staff at Collingwood College for being so helpful and supportive in hosting the festival and a special thank you to Mr Creed (Collingwood's Business Development Manager), as without his help the event wouldn't have been so successful and enjoyable.
Mrs Gray - Headteacher at The Grove Primary School, Frimley