Year 11 Girls Take Second Place in County Basketball Finals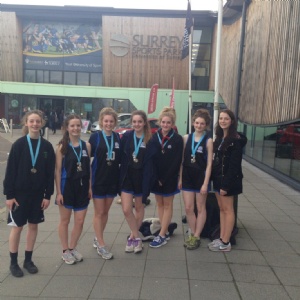 Year 11 girls' basketball team are runners-up in Surrey County Finals.
Our Year 11 girls' basketball team have had an incredibly successful season this year and topped it all off by coming second place in the Surrey County Finals, held at Surrey Sports Park on Thursday 6 March. Having qualified for the final by being placed top of the district league, the girls performed exceptionally in the final tournament of the season.
In a nervous semi-final against close rivals Woking High, Collingwood went behind by two quick baskets. However, thanks to some spirited defence by Bolton and an outstanding 3-pointer by Archibald, the girls were able to claw back a narrow win in the second half making them the first team to reach the final.
There was a long wait as the second semi-final and the third place play-offs were contested. The subsequent winners of the other semi-final were the highly competitive Ashcombe School. Having already lost to Ashcombe in a previous encounter, confidence was low in the team, although this was not apparent as Collingwood went ahead 4 points to 0. Unfortunately this lead was short lived as Ashcombe's incredible shooting gave them an 8 point lead which was to be the final winning margin.
Congratulations to the team and what a great end to a successful season.
Team: Mia Alamo, Sasha Anisman, Olivia Archibald, Ellie Bolton, Tess Bonny, Charlie Campling and Fran Davis