More Medal Glory in Trampolining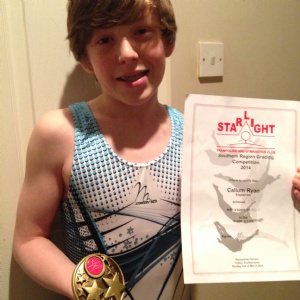 Callum wins gold at his first regional trampolining competition.
Callum Ryan (8C) won the Gold after taking part in his first ever regional trampolining competition on Sunday 2 March in Southampton. A well-practised routine meant that nothing was going to get in his way of achieving first place. He took part in the Assessment G Grade in the Under 15 Boys category, meaning he was one of the youngest in the group, yet outscored his peers with a total of 46.00. Connor Pearson (8G) also took part in the event and finished a close second place with a total score of 45.50. Both boys now qualify for the next Grade up. Watch this space for some interesting competition between both Callum and Connor. Future synchronised partners?!
Natalie Gallimore (9F) also competed in a higher Grade for the first time and finished a respectable 4th, just missing out on the qualifying score to move up to the next Grade. Natalie will remain competing at Assessment Grade F until she further 'wows' the judges to gain qualification scores.
Comments from Callum on his experience…
"At first I was a bit nervous, yet excited, because it was my first regional competition. During the warm-ups I noticed that the trampolines weren't quite as bouncy as I am used to. I was also one of the youngest there. As it all sunk in and I settled in, I started to enjoy it and have a good time with my squad members."
Miss Parker - PE Department