Students Praised for Conduct on Recent Ski Trip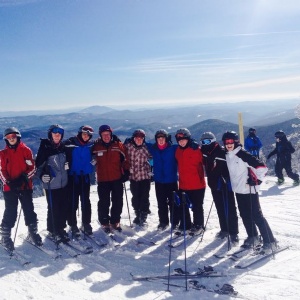 Following our recent ski trip to Killington, USA, Years 10 and 11 students have been praised by the Killington Snow Sports Team Leader for their impeccable conduct whilst away.
Please find below the letter that Collingwood received from Lee Eichelberger:

Dear Mr Tanner and Mrs Griffiths
I would like to introduce myself as the lead ski instructor at Killington, VT, USA when your school was on holiday last week. I asked Mr Cleary for your addresses so that I could express my appreciation to you for allowing him and your staff to return to Killington this year.. This is the fifth year that I have worked with Mr Cleary and your staff from Collingwood. I must say that this may have been the best group he has brought to us to ski. Your students were so well behaved and seemed to have such a good time. I think that the relationship that has developed over the past 5 years has made my job even easier. I cannot express my appreciation more. I cannot wait until their return next year and that goes for all of our instructors involved.
It is wonderful knowing that I have developed a friendship with all of the teachers and the students.
Thank you again and please pass my congratulations on to everyone on the trip.
Regards
Lee Eichelberger - Killington Snow Sports Team Leader