English Teacher Receives Commendation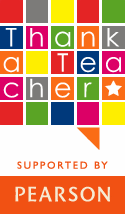 Mrs Smith receives Commendation in the Lifetime Achievement Category of the 2012 Pearson Teaching Awards.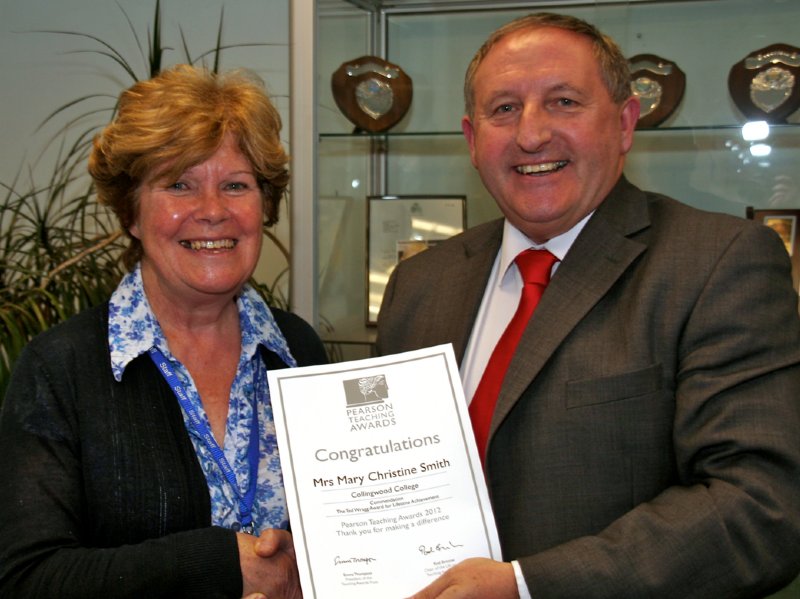 Mrs Christine Smith (English) has been awarded a Commendation in the Lifetime Achievement Category of the 2012 Pearson Teaching Awards for London and the South East. Bearing in mind that there were a record number of nominations, this was an excellent achievement and one which reflects the esteem in which colleagues and students at Collingwood and from other schools hold Mrs Smith.
Mrs Smith was nominated for the Pearson Teaching Awards after receiving thanks from students past and present and parents as part of 'Thank A Teacher' Day on Wednesday 20 June. The 'Thank A Teacher' campaign launched by The Pearson Teaching Awards recognises and celebrates the difference a teacher, teaching assistant or head teacher can make by asking students past and present, as well as parents to simply say thank you at www.thankateacher.co.uk
Collingwood Principal, Jerry Oddie said, "Chris's award reflects great credit on her. It recognises the enormous contribution she has made to the education of many generations of students during her career. Not only is Chris a fantastic, first-class teacher, who inspires children of all levels of ability with her enthusiasm and love of her subject, but also she has made a real difference to the lives of all those with whom she has come into contact. She has a particular gift in being able to motivate and relate to less able students. The fact that many former colleagues and students made an effort to come to the College to meet the judges to share their experience of Chris's work speaks volume about the affection and respect people have for her. We will really miss Chris when she retires at the end of this academic year".
Collingwood quickly recognised Chris's special talent for teaching and capitalised on this, using her as an exemplary teacher modelling good practice for other staff and acting as a mentor. Her talents however have extended beyond the classroom; she has been heavily involved in support of the annual College Production and husband, Jeff has regularly been enlisted to deploy his carpentry and set-building skills. Together, from time to time, they have also provided accommodation for teachers moving into the area.
Collingwood staff will be particularly sad to see Chris retire, because in recent years she has taken it upon herself to organise end of term theatre trips to London and it is typical of her joie de vivre that she has never had difficulty in filling coaches with staff, friends and relatives.
Chris began her career as a PE teacher in 1969 at Notre Dame Middle School in Crawley, West Sussex and then moved on to Aldershot Manor Girls' School. After a short career break she became Head of Girls' PE at Oak Farm School in Farnborough and subsequently was promoted to become a Head of Year and Key Stage Manager. She joined Collingwood in September 2001 and has gradually reduced her teaching commitment in recent years in preparation for retirement and, having become a grandmother, the opportunity to spend more time with her family.
Chris will be re-presented with her award at an end of term farewell organised by the College to celebrate the contribution of several members of staff, who together will have given nearly 100 years of service to Collingwood.
Mr Oddie - Principal