Collingwood Creates Largest London 2012 Logo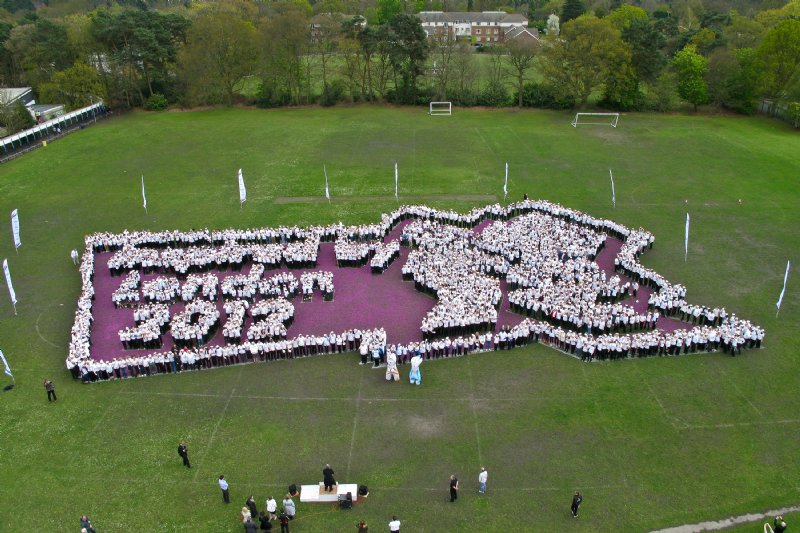 Collingwood students and staff (along with pupils from local junior schools) create largest London 2012 logo.
Wow – we did it! What a memorable day for all involved! On Tuesday 24 April, staff and students from Collingwood College and pupils from Crawley Ridge and Cordwalles, succeeded in creating the largest London 2012 logo using in excess of 2012 people. The whole process was completed extremely efficiently and we would like to congratulate everybody who played a part in creating this little piece of Olympic history.
If you wish to purchase photographs of the event, please go the the High Level Photography & Filming website at http://www.highlevelphotography.co.uk/high-level-aerial-photography-of-the-largest-human-london-2012-inspire-logo/
The Olympics team at Surrey County Council co-ordinated the whole day's activities which included a world class trampoline display by Amanda Parker, potential Olympic team member, dancing by GCSE dance students, judo by the Camberley Judo Club, a demonstration of our 'green car' and gymnastics by the L & G Acrobatic Gymnastics Club and Surrey Borders Gymnastics Club.
We were extremely proud to receive Sir Keith Mills, (Deputy Chairman of the London Organising Committee for the Olympic Games (LOCOG)), along with Cllr Helyn Clack, Oona Muirhead CBE, Debbie Flood (Rowing Silver Medallist), Lizzie Webb (TV AM aerobics instructor), Paul Ainslie and his Surrey Sports team, Julie Kapsalis, Karen Lacey and of course, Wenlock and Mandeville, the Olympic Mascots.
As part of the day's proceedings, Sir Keith Mills kindly presented Collingwood with a cheque for £55,000 on behalf of Sport England, which will go towards the refurbishment of our Gymnastics Centre.
The opportunity arose as a result of our participation in the London 2012 GetSet programme and the Olympic team at Surrey County Council receiving approval by LOCOG.
We are the only school in the country to be offered this 'once in a lifetime' opportunity which, given the high profile nature of this event, has received worldwide coverage and has been filmed and photographed for use by LOCOG (in the run up to and beyond the London Games).
Our own Student Olympic Values Committee engaged with guests and had the opportunity to present Friendship Bands as part of our focus on Olympic and Paralympics Values. Our committee will now be focussing on promoting the remaining Values.
www.getsurrey.co.uk/news/s/2112565_video_pupils_help_create_human_london_2012_logo
www.964eagle.co.uk/news/local-news/665310/teachers-and-pupils-in-surrey-have-broken-a-world-record-today/
www.bbc.co.uk/news/uk-england-surrey-17834401
www.mirror.co.uk/sport/other-sports/london-2012-2012-schoolchildren-recreate-804410
www.flickr.com/photos/55780775@N06
www.highlevelphotography.co.uk/high-level-aerial-photography-of-the-largest-human-london-2012-inspire-logo/#!prettyPhoto