Status Quo Qualifies For The F24 Final At Goodwood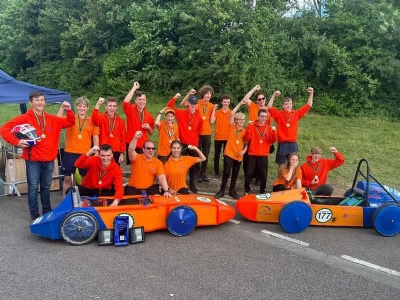 On Saturday 1 July Collingwood's Status Racing team travelled to the Ford Dunton Track in Basildon.
What a truly brilliant result for the Status Racing Team on the most difficult and technical track so far - banking corner, tight chicane and a tighter hairpin corner to navigate.
Both cars and all drivers performed brilliantly in Race 1, with both Quo and Quattro finishing. Race 2 was just as exciting with near misses and collisions. Unfortunately, Quattro lost in a quarrel with a haybale in the chicane and had to retire.
However, Quo was on lightning form, two laps ahead of our nearest competitor until the penultimate lap. With Ben's skilful driving, he conserved enough battery power to roll over the finish line in 1st place to enormous team cheers!
Not only did the team secure a WIN and qualification for Status Quo into the scratch car final, we also won two additional awards: Solid Edge award for Engineering (3rd time's a charm) and the Greenpower Sustainability award. It really was an outstanding team effort.
Next race is Dunsfold in September with the aim for Quattro to qualify for the kit car final.
Don't forget to follow the Status Instagram / Facebook pages for more photos, reels and insights.
Mrs Alley-Mohindra - Design and Technology Department