Collingwood Musicians Play at Frimley Lodge Coronation Event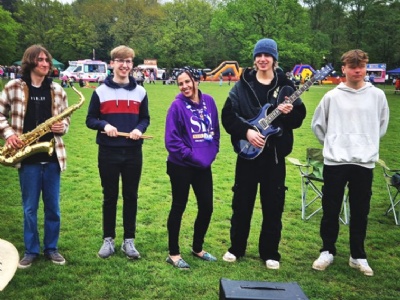 On Sunday 7 May, four of our talented musicians opened the Coronation event at Frimley Lodge Park, Frimley Green.
We were invited personally by the Mayor who was impressed by our talent in the Spring Celebration Event. Four months later and 'The Four Wise Men' made their debut performance. The band consists of Liam Camden on the Sax, Josh Carlisle on Drums, Seb Noble on Keys and Archie Baker on the Electric Guitar.
We had the honour of opening the show on the day, where the band played popular songs from history, including 'Roxanne', 'Dancing in the Moonlight', 'Easy' and 'Don't Stop Believing' as well as an improvised number. Students were confident and professional throughout the morning and worked as an excellent team, showing the public that Collingwood truly does have talent!
The organisers were so impressed that they have invited the band back to open the Frimley Carnival this year in July! It was great to see so many of our Collingwood students at the event as well as the friends and family of 'The Four Wise Men' who came to support them on the day.
Mrs Valu and Miss Angell