Debating Victory for our Lower School Students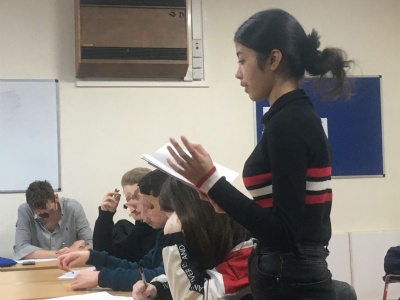 Junior debating teams excel at major competition.
On Saturday 25 January Collingwood's junior debating teams (entirely made up of students debating in their first year, as part of the DofE Skills section) came first and fourth out of 42 teams in the International Competition for Young debaters held in the Oxford Union. Our top team was unbeaten all day and gained the maximum possible points – Ellie Bean (9B)/Emma Kavanagh-Gibbs (9J).
This means we have two teams who will progress to the international finals this April where they will debate against teams from around the English speaking world. Also progressing to the International Finals are Sanjida Rahman (9A) and Bonnie Griggs (9H). This result is a significant achievement for the College and for the students concerned and it is highly unusual for any state school to qualify for the international finals, let alone two teams from the same school. This would also be one of the only times ever that a state school went through in first place from their region.
I am especially pleased that all of the students concerned were so young (Year 9 and below) in what is a Year 10 competition and this shows that debating should continue to thrive well into the future here at Collingwood. Many congratulations to all!!
Mr Baird - English Department