Students Perform at Our Annual Candlelight Soirée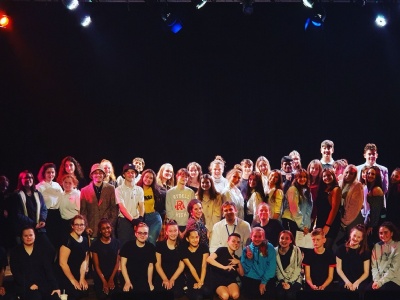 On Friday 6 December 2019 our Drama GCSE and LAMDA students performed to a live audience at our annual Candlelight Soirée.
Over 100 parents, friends and staff came to the event to see our students perform scripted and devised performances. We started the evening off with a phenomenal light show to showcase the new equipment we have purchased this year in the Drama Department. Year 9 LAMDA students also performed an excerpt from The Tempest which they had performed as part of the Shakespeare Schools Festival at Camberley Theatre back in November. The Year 10 and 11 groups performed scripted extracts or devised pieces they have been working on as part of their GCSE in Drama.
Our special guest, Miss Jane Roberts, arrived to watch our students perform and students and staff were thrilled to see her. Well done to all the students who performed on the night. A special thank you to Dan Wright and Rhys Barratt for rigging and operating the lighting and sound - once again they did an outstanding job. A big thank you to all the staff that came to watch on the night, Mr Chauhan, Mrs Goggin, Mr Andrews, Mrs Cornelius-Green and Miss Cousins. Thank you to all the backstage crew, including Izzy Winterbottom, Carys Burrows, Georgie Davies, Ethan Cox, Tia Whitehouse, Alfie Jackson, Jack Matthews and Jude Thornhill.
And finally, thank you to Mr Green for working so hard with his Drama groups to make the night a success.
Mrs Valu - Head of Drama Department