Year 8 Student Competes in National Swimming Championships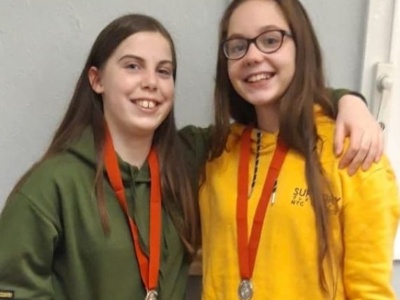 On Saturday 23 November, Autumn Hedley (8C) represented the South East region in the Army Cadet Force (ACF) National Swimming Championships which took place in Wigan.
Cadet Hedley and her team mates competed against the best from the rest of the UK. Autumn came 5th in the Junior Girls' 50m Freestyle and then won a Silver medal as part of the quartet that came 2nd in the Junior Girls' 4 x 50m relay!
Cadet Hedley is pictured with one of her team mates (Cadet Scott). They both attend/parade at Mytchett Detachment in Keogh Barracks (GU12 5QZ) from 7.15pm to 9.30pm Tuesdays and Thursdays. Anyone aged 12 years old and in Year 8 is more than welcome to come along and discover what the ACF does to inspire young people (up to 18 years old) to achieve.