Mrs Griffiths Bids Farewell to Collingwood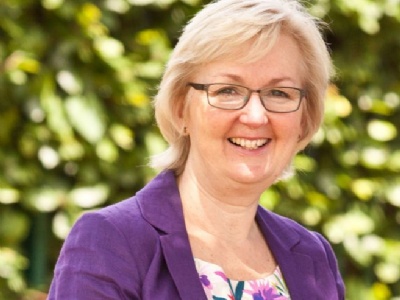 It is with a heavy heart that I now write my final article as Co-Principal of Collingwood College!
It has been an amazing 33 years! I know that Collingwood is improving year on year, and I am very proud that so many parents consider it to be the school of first choice in Surrey Heath. The success of a school is too often measured in terms of examination results, but this is only one aspect of what any school achieves. It is the culture and ethos at Collingwood which makes it unique and the amazing opportunities offered via the wider curriculum that shapes our students as much as the experience in the classroom.
It is a privilege to work with young people and it is the children that every teacher misses the most when they leave education. I will certainly miss all our students! Children create constant challenges for us but each student benefits from our offer in a different way and takes a different pathway through their 5 or 7 years with us.
We have the most amazing students and watching them develop and grow makes this the best job in the world!
I began in 1986 as a teacher of Maths. As I had an IT background, I was soon asked to teach Computer Science and IT. With the speed of developments in home computing and IT, it was a very tough area to work in and trying to keep up to date with new technology and software was very tough for teachers! However, we were very successful, and I know many of our students have progressed to university and are now playing leading roles in the IT industry across the world.
From this beginning, my first middle management appointment was leading the development of vocational education at Collingwood. Despite constant government changes to the qualifications offered, we found that our vocational offer was very successful, very popular and very inclusive. Our provision was recognised as Outstanding! In the UK vocational qualifications are often viewed as the poor relation to A levels so we were delighted when our students were regularly offered good university places. At one time around one third of our 6th form students were taking at least one vocational qualification and at Collingwood they are seen as rigorous, valuable and worthwhile programmes of study that simply offer a different way of learning. Sadly, this constant change to the content and structure of vocational qualifications continues and we await the launch of the new T levels to see whether this change finally achieves the parity that is needed for academic and vocational programmes.
When I joined Collingwood, it was never with the intention to stay until retirement or to become a Headteacher! That same ethos that we create for our students helped me to develop and grow as an individual. I have been fortunate to work with an inspirational group of teachers, who have such a passion for their specialist subject and love working with young people. It has been easy to stay and take on a range of different challenges and responsibilities over the years.
The past 6 years, working as Co-Principal with Eden Tanner have been incredible! We have seen Collingwood continue to improve and our reputation in the local community is better than ever before. Our students are proud to be members of Collingwood. As you can imagine, it will be impossible to leave Collingwood behind, not least as I will be a grandparent for the next 15 years!
Thank you for putting your trust in us and Collingwood! For me, all good things come to an end and I can leave knowing it is in very safe hands!
Mrs Griffiths - Co-Principal