Enterprise Days Enjoyed by Students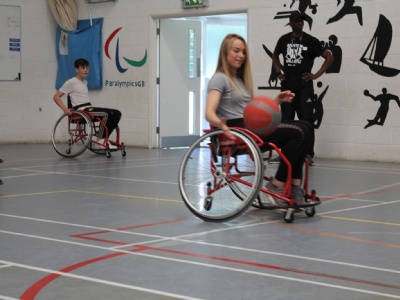 Students enjoy many trips and activities during this year's July Enterprise Days.
This year's July Enterprise Days followed a similar pattern to previous years, but also added various new activities for certain groups.
In the 6th Form all Year 12 students took part in a very professional presentation and workshop session with Accenture, a company that provides technology, business and management consulting, with a very internationalist approach.
Our young students could not fail to have been inspired by the opportunities presented to them by this vibrant group of professionals.For Year 10, whilst Art and Photography GCSE students were developing Coursework ideas at the Farnham Sculpture Park, the remainder took part in an exciting range of sports activities presented and arranged by the PE Department. These included Football Golf, Breakdance, Zumba, Tug of War and an opportunity to try Wheelchair Basketball.
The remaining half of the year were bonding for their last ever Enterprise Day at Thorpe Park, with all the activities reversed for the second day.
Year 9 were with the Communications and Science Faculties in College. After a most creative set of outdoor 'Communication' activities, the Communications Faculty took their charges through a debating skills session and competition.
The Science Department set out a range of engaging, investigative activities along the theme of 'Eye Spy Science'.
Year 8 completed yet another extremely useful First Aid session, delivered mostly with their Form Tutors, gaining their 3 Year First Aid certificate. The Maths Department took groups to the Science Museum at Winchester, Planetarium, Robotics and all.
Year 7 were all out of College, with visits to Kidzania in West London and to Cuckmere Haven on the south coast for a Geography-based trip. No doubt there will be separate accounts about these in later newsletters.
Reading back through the range of skills learned and experiences gained, this has been, once again, an amazing College programme for Enterprise Days and our thanks go to all the staff who have arranged these inspiring moments for our students.
Mr Bunter - Enterprise Days Co-ordinator