GCSE Drama Students Perform Original Work for Live Audience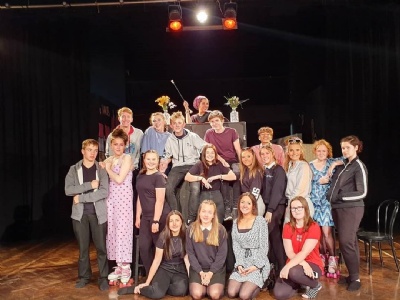 On Monday 10 June and Wednesday 12 June our Year 10 Drama GCSE students performed their Devised component to a live audience.
All the students presented their own original work which ranged in style from comedy to physical theatre. As their teacher, I could not have been prouder of their achievements.
Well done Year 10 Drama for your professional attitude and conduct towards this exam. Performing to a live audience is a life skill...you never know when you might be doing it again!
We were lucky enough to have Rhys Barratt and Dan Wright operate the sound and lighting on both days. They have worked tirelessly over the last few weeks preparing the cues, plotting the lights and collaborating with Drama students and staff. Both were flexible when changes were made last minute ensuring that everything ran as smoothly as possible. Thank you both and well done.
Special thanks must also be given to Miss Evans and Miss Angell who both came to offer moral support to the students on the Wednesday performances. Mrs Hussain-Mamun and Mr Green, the newest member of our team came to moderate and assess the work. Carys Burrows also stayed to meet and greet our wonderful audience on the Wednesday performances. Lastly, a final thank you to Martin from the site team for coming at a minute's notice to retrieve a prop that had accidentally been locked in a classroom.
All the hard work, lunch time, half term and after school rehearsals were worth it. Well done to all of you and thank you to everyone who supported my first GCSE Devising exam at Collingwood College.
Mrs Valu - Head of Drama Department